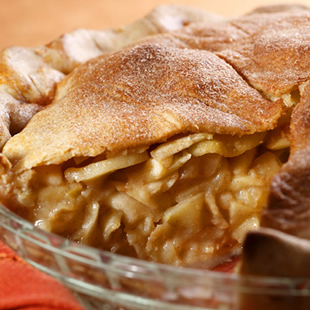 Apple pie is an iconic American dessert. It's pretty simple to make—put together a crust, throw in some apples, bake and wham! Apple pie. But if you want your pie to be memorable, true apple pie aficionados know a few secrets that can really elevate the apple pie experience. One of these pie aficionados is Stacy Fraser, our Test Kitchen manger. She was born a baker extraordinaire and her Deep-Dish Apple Pie is second to none. On top of being delicious, it's healthier than the average pie. What do you think:
Which is healthier: apple pie or pumpkin pie?
How did she do it? Here are some of her secrets:
Secret #1:
Use a deep dish.
What's the best part of an apple pie? The apples, of course! Stacy ditched a regular pie pan, and opted for a deep-dish. Why? There's more room for more filling. You can squeeze in about 1 1/2 more cups of fruit into a deep-dish pie pan vs. a regular pie pan. (See how we do it in this Test Kitchen How-To:
6 Tips for Flawless Deep Dish Apple Pie Every Time
.)
Secret #2:
Keep your crust ingredients cold.
Follow the basic rules of great pastry: always use chilled butter and ice-cold water. Dough likes to be cold. If the butter melts into the flour, the crust will be tough. Try it yourself with these
Step-by-Step Photos For Tender, Flakey Pie Crust
.
Secret #3:
Use two kinds of apples.
Some apples are better suited than others for baking. Stacy uses a mix of McIntosh and Granny Smith in her pie. The McIntosh add a bright flavor while the Granny Smith also contribute flavor and break down less when they cook so you get a filling with texture instead of mush.
Must-Read: The Best Apples for Cooking, Baking and Eating
Secret #4:
Pre cook your apples.
Throwing them all in raw may be easy, but it isn't the best way to go. When you add the apples to the crust raw, they let off steam and shrink in size. That can leave you with a void between the crust and the filling. Precooking your apples just a little bit causes them to shrink less when they're in the crust.
Here's the recipe for Stacy's Deep-Dish Apple Pie (and if you're a true pie lover, don't miss this
Oatmeal-Nut Crunch Apple Pie and More Fall Pie Recipes
).
What are your tricks for baking an amazing apple pie?

Related Links from EatingWell: