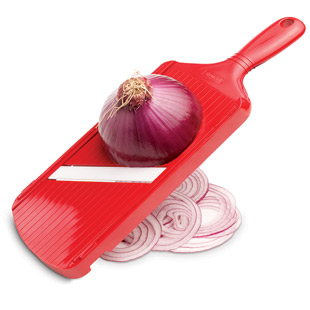 Learn how to use a mini mandoline slicer, a kitchen tool for slicing vegetables.
Origin:
A Japanese take on a French kitchen classic.
What's It Do?
Easily serves up perfectly sliced vegetables, from paper-thin to moderately thick. You simply glide them across its angled blade.
Special Features:
Small enough to fit in a drawer, stay-sharp ceramic blade, dishwasher safe, exponentially more portable than a full-size mandoline and a fraction of the cost.
Ideal User:
Weekend chefs with all the ambition of Jacques Pépin but not his knife skills.
Perfect for:
Coleslaw, potatoes au gratin and
Shaved Zucchini-Fennel Salad
.
Pictured:

Kyocera Adjustable Mandoline ($24.95 at surlatable.com)