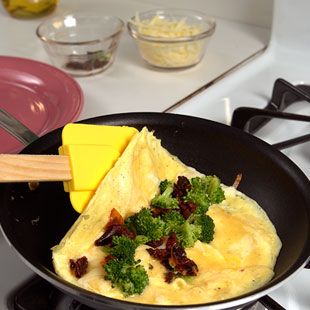 Some people are passionate about pancakes, others are wacko for waffles, but when it comes to breakfast, I've always been an egg man. Beatles references aside, nothing makes me happier than hollandaise-topped eggs Benedict with gooey orange yolks or sizzling baked eggs dotted with bacon. Yum!
Still, my all-time favorite egg dish has to be the omelet. Ready in seconds, an omelet can be made with almost anything—chances are you have a perfect combination of fillings in your fridge right now. They work for any meal of the day and taste great—I love the balance of fluffy, golden eggs with the mild crunch of still-firm hot vegetables.
Cooking an omelet couldn't be easier. Basically you whisk some eggs together, cook them in a nonstick pan with a little oil, add the filling of your choice and then fold it and serve.
That said, there is some finesse involved in making a perfect omelet. Get step-by-step instructions on making an omelet here.
It's hard to go wrong with omelet fillings. I've filled omelets with everything from gourmet prosciutto and capers to leftover red beans and rice. Both were delicious!
To help inspire your next omelet, we asked our Facebook fans to share their favorite filling combinations. Here are our 50 favorites to inspire your next omelet-making endeavor. Happy eating!
1. Smoked salmon
2. Bacon, Swiss cheese and tomatoes
3. Jalapenos
4. Spinach
5. Red peppers
6. Mushrooms, bell peppers and cheese
7. Jalapenos, spinach and bell pepper with salsa topping
8. Cheese, peppers, tomato, onion, squash
9. Onions and mushrooms
10. Crumbled bacon, diced mushrooms, diced tomatoes, diced onion and Cheddar
11. Avocado
12. Swiss cheese and turkey bacon
13. Spinach, onion, red pepper and feta
14. Spinach, tomatoes, onion and mushrooms
15. Spinach, bacon and feta
16. Asparagus and cheese
17. Mashed potatoes, Cheddar cheese, green onion, veggie bacon and sour cream
18. Goat cheese, spinach and tomatoes
19. Red, yellow, green bell peppers, onion, parsley, tomatoes, arugula or spinach, chile peppers and goat cheese
20. Fresh basil
21. Leftover pizza toppings: spinach, mushrooms, prosciutto, olives, artichokes, peppers, broccoli
22. Spinach and ricotta
23. Onion, sweet corn, pepper, cheese
24. Soy chorizo and Cheddar
25. Crab and avocado
26. Chive, tomato and goat cheese
27. Smoked mozzarella, sun-dried tomato, basil pesto
28. "Scrambled" beef and onion with chopped garlic and cheese
29. Apples and Brie
30. Leftover mushroom stroganoff
31. Caramelized onion and spinach
32. Green chiles and feta
33. Leftover taco meat, onions, jarred jalapenos and cheese topped with sour cream and salsa
34. Artichoke hearts sautéed with garlic and seasoned goat cheese
35. Turkey and avocado
36. Basil, tomatoes, mozzarella and Morningstar Farm's veggie "sausage"
37. Spinach and pine nuts
38. Havarti and porabello mushrooms
39. Crabmeat
40. Potatoes and fenugreek, Indian-style
41. Maple or apple chicken sausage, avocado, Monterey Jack cheese and sweet onion
42. Spinach, garlic and cream cheese
43. Blue cheese, caramelized pear slices and toasted pecans
44. Sliced pimiento-stuffed green olives
45. Manchego cheese, caramelized Vidalia onions and pancetta
46. Labne (condensed yogurt) with dillweed
47. Chili and cheese
48. White creamy sauce with either shrimp or mushrooms
49. Smoked salmon, cream cheese, red onion, dill, capers
50. Leftover roasted vegetables, sautéed onions and Gouda cheese