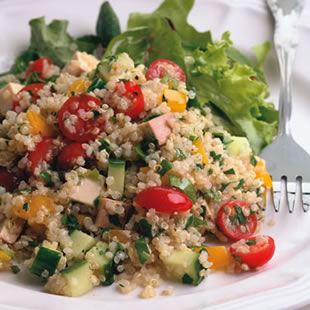 A few weeks ago, anticipating bikini season, my friend asked me to write her a "food prescription" to lose a few pounds to get a bikini body. As a registered dietitian and associate nutrition editor at EatingWell Magazine, I'm used to this sort of request. I tend to give pretty standard advice: track your calories, eat more vegetables and get more
exercise.
But in this case I've also come across research on specific foods that can help promote weight loss (Eat yummy food and lose weight? Yes please!), including foods that can help you shed fat from that pesky belly region. Here are 4 foods to eat to get a bikini body.
1.
Quinoa
Swapping refined grains for whole grains, such as quinoa and also brown rice, popcorn, bulgur wheat and barley, is not only more nutritious, it can help you lose belly fat. How? Whole grains contain fiber, which makes you feel fuller on less food. One study, published in
The Journal of Nutrition,
found that adults who ate about 3 servings of whole grains a day had about 2.4 percent less body fat and 3.6 percent less abdominal fat than those who ate less than a quarter of a serving. Aim for at least 3 servings of whole grains daily (one serving equals ½ c. of cooked brown rice, 1 cup of whole-grain cereal or a slice of whole-wheat bread). Quinoa is a great way to get your whole-grain servings and it cooks in just 15 minutes.
Slim Down with These Recipes: Quinoa & Smoked Tofu Salad, plus More Easy Whole-Grain Recipes
High-Fiber, Whole-Grain Recipes
Lemon-Parm Popcorn and More Whole-Grain Snacks
2.
Raspberries
Speaking of fiber, fruits and vegetables are loaded with it and are a healthy way to get your fill. Raspberries have an impressive 8 grams of fiber per cup—and for only 64 calories. Researchers who followed women's eating habits for two years found that those in the study who increased their fiber intake generally lost weight. (Women who decreased the fiber in their diets gained.) On average, boosting fiber by 8 grams for every 1,000 calories resulted in about 4½ pounds of weight loss. So if you currently eat 1,500 calories a day, that would mean aiming for an additional 12 grams of fiber (the amount in 1 cup of raspberries plus 1 cup of green beans).
Recipes to Try: Fiber-Rich Recipes to Help You Lose Weight
Grab & Go High-Fiber Breakfasts
3.
Nuts
It may seem counterintuitive, but even though nuts are high in calories and fat, eating them can help you lose weight. A Harvard study that examined the eating habits of more than 50,000 women over eight years found that those who ate nuts at least twice a week gained less weight than women who rarely ate nuts. That may be because the combination of protein, fiber and healthy fats (mono- and polyunsaturated) in nuts can help you feel full and satisfied. A few times a week, work an ounce of nuts (about 14 walnut halves, 20 to 24 almonds, 2 tablespoons of peanut butter) into a balanced diet.
Recipes to Lose Weight: Pecan & Mushroom Burgers and More Recipes to Help You Lose Belly Fat
4.
Vinegar
That same friend who wants to lose weight loves vinegar. Lucky for her, that's one of the foods that may help trim belly fat. In one Japanese study, when obese adults added about 2 tablespoons of acetic acid (the active ingredient in vinegar) to their regular diets every day for 12 weeks, they gained 4 fewer pounds, about 5 percent less belly fat and 3.5 percent less total body fat than adults who didn't consume any acetic acid. Researchers suspect that the acetic acid ramps up enzymes that oxidize fat, so less fat accumulates. Add any type of vinegar—even a tablespoon—to your daily diet. Plus, vinegar goes great with salads, so chances are you can get two of your weight-loss foods in at the same time.
What foods do you eat more of when you want to look good in your bikini?
Kerri-Ann, a registered dietitian, is the associate editor of nutrition for
EatingWell
Magazine, where she puts her master's degree in nutrition from Columbia University to work writing and editing news about nutrition, health and food trends. In her free time, Kerri-Ann likes to practice yoga, hike, cook and bake.

More from EatingWell: