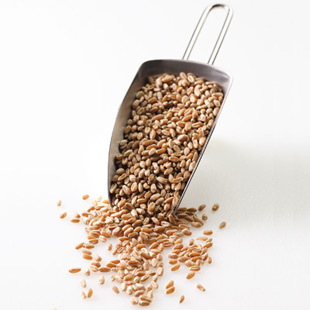 Throughout April we've asked members of
our Green Living group on EatingWell.com
to give us your best tips for greening up your kitchen. Lots of you shared awesome, innovative tips, and our top 10 choices are below. (
Click here to join the fun in our Green Living community now
.)
Check out their great ideas (you may even pick up some new tricks!) and vote for your favorite to help us choose our top winner (who will receive
EatingWell in Season: The Farmers' Market Cookbook).
Click here to see all the tips and submit your own tips to get in the running for next week's prize during the final week of our Earth Month giveaway.
1. Buy in Bulk & Make Your Own
I love to buy our food in bulk. We stock up on grains, pasta, beans, and dried fruits at Whole Foods (and the bulk means ZERO packaging!!!) and then transfer them to clear glass re-usable jars. Our pantry looks so pretty with all the glass and the grains, and I love the no packaging or waste. We've also learned that we can make nearly anything we see at the store (such as jam, infused sauces or liquors, canned vegetables from our garden, hummus, you name it), which reduces even more packaging and waste, plus saves us money.
—joannalynnesmith
2. Cover Your Pots
I cover my pots so that they come to a boil more quickly. I also don't leave the water running while cleaning pots and pans, but let them soak for a bit, then quickly clean them and rinse.
—crisbg111_1
3. Bring the Garden Indoors
We took the top 3/5 of the back of an old bookcase that had seen better days. After reinforcing the back with 4 L brackets, put it, with the back to the window, in the southwest-facing window of the kitchen. The open bookcase allowed me to have herbs all winter as well as provide some other plants with the sunlight they craved. A month ago this became the area where I started tomatoes from last year's seeds. Since we live in New Hampshire, the two shelves that were below the windowsill served as a convenient place for hats and gloves this winter
. —maryashcliffe
4. Reuse Bags & Cans in the Garden
I save the mesh bags that have cherry tomatoes or tangerines in them and put my small soap ends in them. You can tie the bag closed so the soap doesn't fall out. Not only does this soap up your hands but by keeping this by my garden hose, I can really get the dirt out of my hands and get the dirt out of my carrots, daikon parsnips, etc. No more looking all over for the bar of soap as I tie it to the hose bib. I also reuse old trash cans with holes in them to grow my potatoes. I make sure there are enough holes in the drum or can to ensure drainage. I then put in a few inches of composted soil (enough to cover your potato or yacown tubers). As the greenery grows taller, I put STRAW not hay on top to cover the greenery. Keep this up until it is time to harvest. Not only do you get a jackpot of tubers as they grow all the way up the stems, you also get all of the straw composted into soil and your potatoes are easy to find as they are all in one container. You can just reach in and pull out a few potatoes and save the rest for later in the winter if you put the container in the barn or garage.
—reganranch
5. Shop with Produce Bags
A few months ago I discovered reusable/washable produce bags, which I now take on every trip to the grocery store. Now I don't feel guilty about using all those little plastic bags for fruits and veggies, and they don't weigh anything so it doesn't add to the price. (I bought mine from Bag the Habit, but I'm sure there are others out there too.)
—kimberaw
6. Dispose of "Disposable"
My tip is to stop using paper towels/disposable wipes (or for that matter, any "disposable" item)! You can just as easily use a dish towel or rag to wipe up spills, dry your hands, etc. I use a clean rag and a few towels every day (usually one per meal). At the end of the week they go in with the rest of my whites in the laundry to be reused the next week.
—Skeetor
7.
Support Your Local Farms
Purchase a food share with your local organic farm! Most offer a reduced price for working a few hours a week on the farm as well. This is a great way to support your local farmers and also get amazing tasting, quality organic food at a great price! —
angibr
8. New Uses for Cereal Bags & Chip Containers
I no longer purchase wax paper. Empty cereal bags are the way to go! I use them to freeze veggies from the garden as well as blueberries from my bushes. First open up the cereal bag and wipe it clean, then place it on a cookie sheet. Next you can put food you just washed or cooked directly and drained on to the cereal bag and place it in the freezer. No need to go nuts drying them off fully. Once dry, you can gather them up and place them in a zip gallon-size bag so you can grab the amount you need as you use the food. The cereal bag can now be wiped off and reused. I find they NEVER tear from the frozen food or water, and I reuse mine all summer long. They are also good to cup into squares or circles and place between cookies to freeze. I like to make small cookies and use empty Pringle containers to put my cookies in with the cereal bags between. The Pringles container has a foil inside which helps to insulate and protect the cookies from any freezer damage. The containers store really well on the door of my upright freezer for months. —
krousela
9. Buy in Season
Buy produce in season and as local as possible (scour farmers' markets, grow your own, etc). Find a way to use every bit of it too—if your kohlrabi has the greens, use the greens for one dish, the kohlrabi for another. Use carrot peels, celery ends, chicken bones, etc for stock (freeze and use when you have enough).
—alta2924
10. Juice It!
I received a juicer for Christmas and it has proven to be great inspiration for green living. We regularly juice fruits and vegetables that are a little overripe or that end up being remnants leftover from recipes. Got a few extra carrots or broccoli stems, throw them in the juicer for a great, healthy treat that also prevents waste. The peelings and cores that cannot be juiced are sent to compost bin, as is any leftover pulp that we don't use in salsas or baked goods. The compost now replaces store-bought compost for my garden.
—shawnyujuico

Related Links from EatingWell: