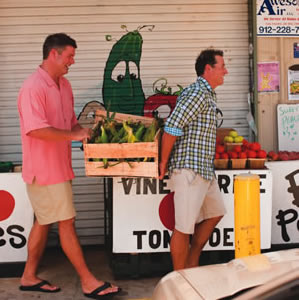 The celebrity chef (one of Paula Deen's sons!) shares his best potluck tips and memories.
We decided to design a dream potluck with a guest list of celebrity chefs for the May/June issue of EatingWell Magazine. We invited Jamie Deen, along with his brother Bobby to share a recipe with us for the potluck. Jamie and Bobby, share a passion for great home-cooked food with a Southern flair with their celebrity chef mom, Paula Deen. These brothers are following in their mom's footsteps with their own TV shows, books and website. Our favorite part of what they're up to: healthy makeovers of some of Paula's recipes! And we've really enjoyed cooking from their new book The Deen Bros. Get Fired Up, by Jamie and Bobby Deen and Melissa Clark (Ballantine Books, 2011). We asked Jamie what he likes about potlucks and he told us about some of the traditions in the Deen family.
What do you like about potlucks?
Jamie Deen:
I really enjoy going to a good potluck because if you get 5 or 6 different families, everybody always prepares some of the things that they grew up eating. There are always super-interesting stories associated with everybody's different dish. You're bound to eat something that will completely turn your head around, like a special "Grandma Eunice's Marshmallow Jell-O Stuff with Artichoke Special Dessert Pie." Just off-the-wall weird things. You might find interesting combinations of food that you might not think go together. So a potluck is exactly that—it's a big pot, and some luck comes out, and then some really super-strange stuff comes out. I love exploring traditional family recipes from different families. My favorite thing, I think, is seeing what people grew up eating and what they think is the perfect dish to bring to a party.
Do you have any tips for making a potluck successful?
Jamie Deen:
I think what's important is that you don't want every single person to bring mac and cheese, broccoli casserole or a broccoli salad. You might want to assign spots for people. Like, you call them and tell them, "Hey, I really love your so-and-so dish, can you bring that?" Or ask them if they can bring a side dish, bread, starter or a dessert. If you're going to have a successful potluck, you want to have a well-rounded meal. And if you're the host, it's kind of up to you to offer some guidelines to the people you're inviting. So don't be shy! You want people to have a good time, and you don't want to put a lot of pressure on them, but you might want to offer an outline, like, "What I need from you is a vegetable or an entree." A little bit of guidance goes a long way!
Have you ever been to a potluck with a bunch of other chefs, and what was it like?
Jamie Deen:
I haven't been to a potluck with any chefs, but we have a lot of friends that are really good cooks. You know, if we're going somewhere and our culinary producer friend, Libbie Summers, brings a dish, it's always going to be super nice. And Mom is always going to do a really nice dish. Brooke (my wife) and I have our things that we like to bring too. We like to do different casseroles; kind of traditional things like squash casserole. Things that will hold their heat, are easy to reheat and will travel well. If you're going to do something, you want it to stand the test of travel. If you fry a lot of different stuff, you have the challenge of transporting it. So I like to stay with casseroles, or maybe desserts. I always bring a guacamole dip— everybody loves my guacamole. So if I go somewhere, I'll always bring a fresh bowl of dip and some good tortilla chips. Pictured: Jamie and Bobbie Deen Photography: © Ben Fink Photography