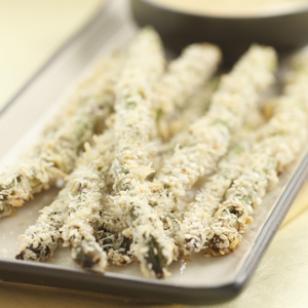 I don't know about you, but I've been ready for flip-flop season for at least a month. I may still have a 4-foot-high snowbank at the top of my driveway, but the songbirds are my new alarm clock and all I can think about is spring. And after a long winter of hearty stews, rib-sticking chili and all things roasted, I'm craving the fresh, light, refreshing vegetables of spring. Luckily the best ones are showing up at farmers' markets across the country: snappy peas, refreshing baby lettuce, spicy radishes and more. Here are 5 of my favorite spring veggies and amazing ways to cook them.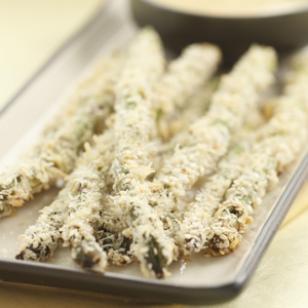 Asparagus
As one of the most iconic spring vegetables, few things beat the flavor of the first fresh, tender asparagus spears of the season. Asparagus is high in folic acid and is a good source of potassium, fiber and vitamins A, B6 and C.
Panko-Crusted Asparagus Spears
make a tasty side or cocktail nibble.
Related:
More Fresh Asparagus Recipes
Lettuce
Lettuce loves cooler weather and grows very quickly, so even if temps in your area have just started to rise recently, chances are you can still find some locally grown greens. A 2-cup bowlful has less than 15 calories yet is packed with nutrients, such as folate, vitamin C, fiber, potassium and the vitamin A precursor beta carotene, which in itself is a powerful antioxidant that helps neutralize free radicals that damage cells. Make
Mixed Lettuce Salad with Cucumber Herb Vinaigrette
or pile greens into a bowl with the fixings for your favorite salad.
Watch:
4 Must-Have Healthy Salad Ingredients
Peas
Like asparagus, there's just something really special about how a fresh and snappy pea tastes. There's a sweet flavor and tenderness that out-of-season peas just can't match. A 1-cup serving provides one-third of your Daily Value of vitamin C and 3 grams of fiber.
Lemon-Mint Snap Peas & Lima Beans
is a great way to enjoy them while they're at their peak.
Don't Miss:
More Fresh Ideas for Spring Peas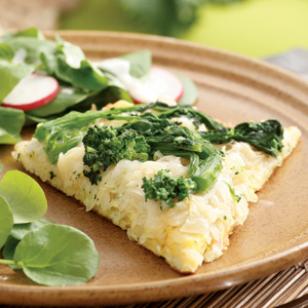 Turnips
You may not think of turnips as a spring vegetable, but they only take a month to grow from seed so smart farmers can turn out an early-season crop. If you find baby ones, they're incomparably sweet and tender. Bonus: They're rich in fiber and vitamin C.
Spring Turnip Frittata
is a delightful way to showcase them.
See Also:
Tasty Recipes for Garden-Fresh Turnips
Radishes
If you want instant satisfaction from your garden, try growing radishes. They sprout up fast and you can start eating them in just a couple of weeks. And they weigh in at only 1 calorie apiece, so snack on them as much as you want! If you want to mellow their flavor, try them stir-fried with other vegetables. Or embrace their peppery flavor and layer them on sandwiches or toss them into a salad, like
Radish, Celery & Snap Pea Salad
.
Related:
Salads, Salsas and More Recipes Starring Radishes