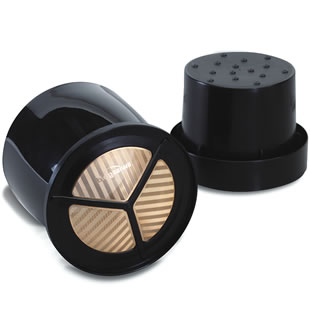 The EatingWell Test Kitchen's favorite reusable coffee makers.
A single-cup brewing system is perfect when you want a pick-me-up without brewing a whole pot of coffee. And when you cook with coffee and need just a small amount, it's a convenient way to make just a little. Our Test Kitchen ground, boiled, brewed and sipped to find our favorite single-cup reusable coffee makers. At first glance, the AeroPress ($29.95 at
surlatable.com
), invented by Alan Adler, who is known for applying engineering principles to sports products (like the Aerobie flying disc), looks like a mini science experiment. But after a few tries we found the process to be easy and the coffee smooth and rich without sediment or acidity.
For drinking, AeroPress coffee was one of our favorites and, with just one small disposable filter, waste is minimal. The Swissgold KF 300 ($11.95 at
dancinggoats.com
) is a reusable 24-karat gold filter. You place it on your coffee mug, add grounds and brew right into your mug—it lets through most of the aromatic oils but not the grit. An economical single-cup cone filter holder ($3 at
dancinggoats.com
) works the same way. It uses size #1 disposable filters and brews a slightly more acidic cup.