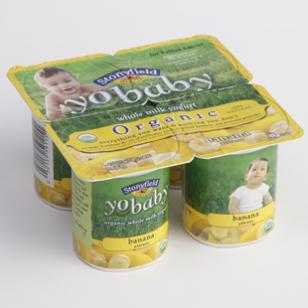 How innovative companies are making packaging from food.
Food packaging generates nearly a third of the municipal solid waste in the U.S. Some manufacturers are trying to curb the trash and the more innovative companies are using "food" to do it.
Here are three examples:
Yogurt containers made from corn.
Moving away from petroleum-based packaging, Stonyfield Farm uses 93 percent corn-based plastic for its multi-pack cups, reducing its carbon footprint by 2,000 tons of carbon dioxide a year. If every dairy company in the U.S. made the same switch, carbon dioxide emissions could be reduced by 739,908 tons a year.
Plastic packaging made from banana peels.
Researchers at Universiti Sains Malaysia have created plastic packaging made from banana peels and the skins of other tropical fruits. Called Fruitplast, the packaging (which is not yet in use) is 10 percent cheaper to manufacture than petroleum-based plastic and degrades in as little as 3 to 6 months.
Chip bags made from potato peels.
British potato chip maker Walkers (owned by PepsiCo) is using the potato peels from 100 percent UK-grown potatoes to develop a potato chip bag (due out on shelves within 18 months). It's also running delivery trucks on biodiesel that contain 5 percent used cooking oil.