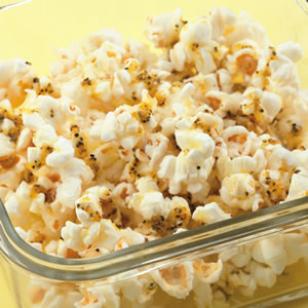 I'm trying to eat more healthfully in the new year and that means trouble-shooting one of my problem areas: snack attacks. I usually come home from work ravenous. Like clockwork, I'll walk in the door, drop my things, reach into the snack drawer and grab the first snack-like thing I see. Then I'll proceed to munch, munch, munch, all the while standing up, in the kitchen, more likely than not with my hat and coat still on. (
Healthy 5-Minute Snack Ideas
)
My husband likes to poke fun at this snack habit. ("I'm HUNGRY!" I usually quip back, feeling vulnerable and defensive.) Problem is, HIS definition of snack is along the lines of potato chips and gummy candy. If I don't plan ahead, our snack drawer will be filled with these unhealthy finger "foods" and 10 minutes later, I'll be feeling the effects of my snack-attack hangover. It's a downward spiral from there. Next thing I know, I'll be saying, "Let's just have cheese and crackers for dinner."
A good snack is one of the building blocks of a healthful diet. Research suggests that nutritious snacks can stave off hunger by stabilizing blood sugar—which may help you eat more sensibly at mealtimes.
So I'm trying to keep healthier snacks on hand—ones that are just as easy to grab as a bag of chips or a candy bar. These simple snacks all come in at 100 calories or less and keep me satisfied till dinnertime. (I still eat them standing up in the kitchen with my coat on! Some habits die hard…)
6 Skinny Snacks For Your Afternoon-Snack Attack:
Lemon-Parm Popcorn
Strawberry-Banana Smoothie Pops
Devilish Egg
Chocolate-Banana Grahams
Frogs on a Log
Cottage Cheese Salad
Ham Pinwheels
Quick Quesadilla
Protein Power Snack
Smoked Salmon Cracker
By Penelope Wall

Penelope is a web producer and writer for EatingWell.com. When she's not busy geeking out at the computer, she loves cooking and trying new recipes on her friends. Some of her favorite foods are dark chocolate, coffee, apples, sweet potatoes and cheese.

More from EatingWell: