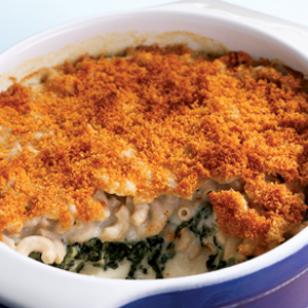 My husband works late two nights a week, which leaves our year-and-a-half-old son and me on dinner duty together. Sounds like a sweet mommy-baby date, right? It often is, especially on the nights when dinner is super-simple: minimal cooking, mostly reheating, a leisurely meal (ha!) and lots of playing. My solution: meals I can make ahead, freeze and then just reheat. (Eggs and toast are always a backup!)
The thing about cooking ahead is that I have to set aside the time to cook at some point. But then, on crazy nights when we just need to eat, we have a meal that's all ready to go. That's an investment that pays off big for my sanity and satisfaction (usually leftovers too!).
My make-ahead strategy:
The week before:
Look up recipes I want to eat the following week. Make a shopping list.
On Saturday morning:
Shop for the ingredients I need (without the toddler).
Saturday and Sunday:
Make two easy meals I can freeze. (For as ambitious as I may sound, I usually pick at least one really easy one and/or one I can make in my slow cooker.)
The next week:
Defrost and enjoy! (With a vegetable side, of course. For super-simple ideas, check out
How to Cook 20 Vegetables
.)
Here are three of our favorite freezer meals.