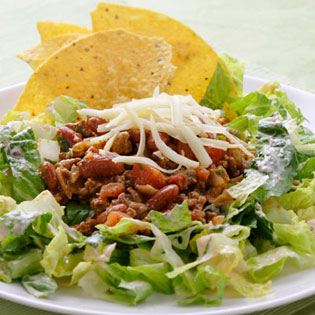 My pantry at home is always well-stocked. (Actually most people would probably call it overstocked.) I don't feel right if my cupboards are bare. And once I started working on our new book, EatingWell on a Budget, I realized that my pantry-stocking obsession also had the benefit of helping me save money: when I have key ingredients on hand to make dinner, I'm much less likely to call for delivery or go out. (Plus cooking at home is almost always cheaper than going out.)
Here are eight of my favorite ingredients to keep on hand that help stretch my food dollars further.
Potatoes
Cost:
about 44¢ apiece
Russet potatoes, which are a good source of fiber, potassium and vitamin C, are a great nutritional bang for your buck. And these babies are truly versatile. Try baking them, then stuffing them with beans, vegetables and salsa; mash them; slice and roast them; or turn them into hash browns for breakfast.
Recipes to Try:
11 Easy Low-Fat Potato Recipes
Beans
Cost:
52¢ or less for a ½-cup serving of canned beans
You just can't go wrong if you bulk up your meal with beans. They're packed with fiber and protein. I always keep cans in the cupboard and whip them out to add to salads, pasta, soups or for an easy dip. Dried beans are even less expensive than canned. Cook a big batch, then freeze extras for when you're ready to use them in a recipe.
Recipes to try:
From soups to sautés, 10 budget-friendly dinners in 30 minutes using canned beans
Frozen Vegetables and Fruit
Cost:
30¢ for a ½-cup serving of frozen peas
I always keep frozen vegetables on hand for when the produce drawer is looking a little bare. Frozen fruits and vegetables are nutritious because they're picked at the peak of ripeness and then frozen to seal in their nutrients. And a bonus: most of them don't have added sodium or sugar like canned vegetables and fruits often do. Plus they're relatively inexpensive, especially when compared with their "fresh" counterparts out of season.
Recipes to try:
Sauces, smoothies and more recipes starring frozen vegetables and fruit
Pasta or Rice
Cost:
26¢ for 2 ounces of whole-wheat pasta
Got a few vegetables or a little leftover meat? Maybe you have some fixings for a salad or a light soup, but it's not quite dinner. Pasta and rice are cheap, healthy pantry items that let you turn a few leftovers into a meal. Try quickly sautéing peppers and onions and toss them with noodles, herbs and a little cheese, or add rice to a vegetable soup to make it more satisfying.
Recipes to Try:
Cheap Recipes with Rice that Serve 4 for $12 or Less
Pasta Dinners for $3 or Less Per Serving
Eggs
Cost:
23¢ for a large egg
Eggs aren't just for breakfast. They're also the greatest last-minute answer for a quick dinner. I like to make huevos rancheros with canned beans, a little salsa and corn tortillas, which I keep in my freezer. A source of high-quality protein, eggs also contain the antioxidants lutein and zeaxanthin, which help keep eyes healthy.
Recipes to try:
Two Dozen Easy Egg Recipes for Breakfast, Lunch or Dinner
Ground Beef
Cost:
$1.02 per 3-ounce serving of 93%-lean ground beef
Saving money is all about meatloaf. Just kidding. But really, meatloaf's reputation as a budget-friendly food is deserved because its main ingredient, ground beef, is inexpensive. And when you buy a lean grind, it's also healthy. Meatloaf is not the only inexpensive meal to make with ground beef. (I always keep ground beef on hand in my freezer, which I consider to be part of my "pantry.")
Recipe to try:
Taco Salad (pictured)