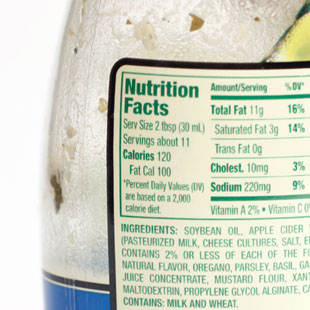 As someone who is health conscious, I read a lot of labels. My general rule is to buy foods that list ingredients I can pronounce, but there are at least two things I additionally watch out for: ingredients that sound healthy but aren't (I try to avoid those) and obscure ingredients that sound scary but are basically harmless.
The latest ingredient to request a "healthier-sounding" name change? High-fructose corn syrup. This week, the Corn Refiners Association, which represents firms who make the product, petitioned the FDA to change the ingredient's name to "corn sugar." The group has many reasons for wanting the change, including changing public perception of this controversial ingredient. But two respected nutrition watchdogs, EatingWell advisory board member Marion Nestle, a nutrition professor at New York University, and Michael Jacobsen, director of a Washington, D.C.-based nutrition and health advocacy group, Center for the Science in the Public Interest,
told the New York Times that the new term "corn sugar" is a more accurate description for high-fructose corn syrup
, which is a mixture of glucose and fructose.
I talked to EatingWell's nutrition editor, Brierley Wright, M.S., R.D., about HFCS and 4 more ingredients that sound healthier than they are, plus 4 obscure-sounding ingredients that are basically harmless. (Note: This is not a complete list, just some highlights to pay attention to.) Here's her advice on how to decode them:
Watch Out for These Ingredients That Sound Healthier Than They Are:
1. Fruit Juice Concentrates
Obscure-Sounding Ingredients That Are Basically Harmless
:
What it is:

Not to be confused with insulin, a hormone that regulates energy and glucose metabolism in the body, inulin is a soluble fiber found naturally
in bananas, onions and some plants.

What it does:

It is added to processed foods to replace sugar, fat and flour. Bonus: It can help increase calcium absorption and can help promote the growth of beneficial bacteria added to yogurt.
What it is:

This is a pseudonym for vitamin C, a water-soluble vitamin perhaps best known for its role in boosting our immune system, it also helps the body absorb iron from plants we eat, acts as a protective antioxidant and has been linked with younger-looking skin.

What it does:

It is added to products to prevent discoloration; in bread-machine yeast it acts as a dough conditioner to promote volume.
What it is:

You'll see this powdery substance, fermented from glucose, in a lot of products— from salad dressings to ice creams.

What it does:

It thickens salad dressings and maintains the smooth consistency of ice creams. Bonus: Increasing the viscosity of lower-fat dressings gives them the richer "mouthfeel" associated with full-fat versions—making it a little easier to reach for the healthier choices.
What it is:

This ingredient, along with vegetable gum and methylcellulose, is one of the starches or fibers derived from natural plants (including bushes, trees, seaweed) and bacteria.

What it does:

You'll find maltodextrin, or its pals, in nearly every processed food, including veggie burgers, in which they act as a binder and stabilizer to hold everything together in a neat, firm patty.