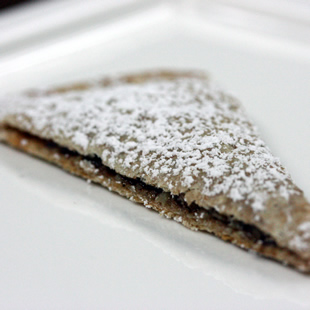 This recipe is a semi-finalist in EatingWell's 2010 Holiday Cookie Contest.
Active Time: 30 Minutes | Total: 45 Minutes
Makes: 2 Dozen Cookies
A cinnamon-walnut filling between a whole-wheat pastry. It may remind you a bit of baklava, but less sweet and easier to prepare.
4 tablespoons unsalted butter, softened (see Tip, below)
1/3 cup nonfat ricotta cheese
1/2 cup whole-wheat flour
1/2 cup all-purpose flour
3 tablespoons finely chopped walnuts
2 tablespoons granulated sugar
3/4 teaspoon ground cinnamon
1 teaspoon frozen orange juice concentrate
1 teaspoon honey
2 teaspoons low-fat milk
1 teaspoon confectioners' sugar
1. Preheat oven to 375°F.
2. Beat butter and ricotta in a medium bowl with an electric mixer on medium speed until combined. Stir in whole-wheat flour and all-purpose flour until thoroughly combined. Divide the dough into 4 equal parts. Roll each portion of dough between sheets of plastic wrap into a 7-inch circle. Place 2 circles 1 inch apart on a large ungreased baking sheet.
3. Combine walnuts, granulated sugar and cinnamon in small bowl. Stir in orange juice and honey. Sprinkle the mixture evenly over the 2 circles on the baking sheet, keeping the filling about 1/2 inch from the edge. Top each with one of the remaining circles. Seal the edges by pressing down with the tines of a fork. With your hands or the back of a spoon, slightly push the edges in toward the filling to make the edges slightly thicker and smoother. Brush the tops with milk.
4. Bake until the edges are lightly browned, 12 to 15 minutes. While still hot, leave on the baking sheet and cut each circle into 12 wedges. Serve warm or at room temperature, dusted with confectioners' sugar.
Per serving: 50 calories; 3 g fat (1 g sat, 0 g mono); 6 mg cholesterol; 6 g carbohydrate; 1 g added sugars; 1 g protein; 0 g fiber; 4 mg sodium; 20 mg potassium.
Tip: To soften butter, let stand at room temperature for 30 to 45 minutes. Or cut into small pieces and let stand for about 15 minutes. (Do not soften in a microwave. Microwaves heat unevenly and may cause the butter to become too soft or melted in spots.)