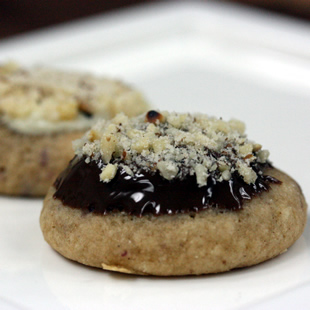 This recipe is a semi-finalist in EatingWell's 2010 Holiday Cookie Contest.
Active Time: 1 Hour | Total: 2 1/2 Hours (including 30 minutes chilling time) | To Make Ahead: Store airtight between layers of wax paper for up to 2 days or freeze, without the topping, for up to 3 months. Defrost at room temperature before decorating. | Equipment: Parchment paper or nonstick baking mats.
Makes: 40 Cookies
My goal was to create a unique-looking cookie with ingredients that I love (chocolate, nuts and dried cranberries). The resulting shape, with its topping, resembles a stuffed mushroom cap and gave the cookie its name. If you can find whole, shelled hazelnuts with their papery brown skins already removed for this recipe, you can omit the step of removing the skins. To keep these cookies soft during storage, try adding half a slice of bread to the container with the cookies; the cookies will stay soft and the bread will become hard.
1 cup hazelnuts, toasted and skinned (see Tip, below)
1/2 cup dried cranberries
3/4 cup whole-wheat pastry flour (see Note, below)
3/4 cup all-purpose flour
1/2 teaspoon ground cinnamon
1/2 teaspoon baking powder
1/4 teaspoon salt
1/3 cup canola oil
1/3 cup packed light brown sugar
1/4 cup honey
1 large egg
1 teaspoon vanilla extract
2 tablespoons reduced-fat sour cream
2 tablespoons nonfat plain yogurt
1/3 cup white chocolate chips, melted (see Tip, below)
1/3 cup dark or milk chocolate chips, melted (see Tip, below)
1. Finely chop hazelnuts in a food processor and transfer to a small bowl. Dust out the inside of the food processor, add cranberries and process until finely chopped.
2. Whisk whole-wheat pastry flour, all-purpose flour, cinnamon, baking powder and salt in a large bowl. Whisk oil, brown sugar, honey, egg and vanilla extract in a medium bowl until well combined. Make a well in the center of the dry ingredients and pour in the liquid ingredients. Stir with a spoon until thoroughly combined. Combine sour cream and yogurt in a small bowl. Add the sour cream mixture to the rest of the dough in the large bowl; stir until the white disappears. Finally, stir 1/4 cup of the reserved chopped hazelnuts and the cranberries and into the dough. (Save the remaining chopped nuts for topping the cookies.) Refrigerate the dough, uncovered, for at least 30 minutes or up to 1 day.
3. Position racks in the upper and lower thirds of oven; preheat to 350°F. Line 2 large baking sheets with parchment paper or nonstick baking mats.
4. Using well-floured hands, roll the dough into small (no larger than 1-inch) balls. (The dough will be tacky.) Place the cookies 1 inch apart on the prepared baking sheets. Bake in the upper and lower thirds of the oven until the bottoms are lightly brown but the tops are still pale, 9 to 11 minutes. Cool on the pan for 2 minutes, then transfer to a wire rack to cool for at least 10 minutes before applying the topping.
5. For the topping, spread half the remaining nuts out in a thin layer on a small plate. Starting with half the batch of cookies, hold each cookie upside down and dip just the crown (the top 1/3) of each into melted white chocolate and then immediately dip the covered crown into the hazelnuts. Place finished cookies on a wire rack to set. Then repeat the process using dark (or milk) chocolate to finish topping the rest of the cookies.
Per serving: 88 calories; 5 g fat (1 g sat, 3 g mono); 6 mg cholesterol; 11 g carbohydrate; 6 g added sugars; 1 g protein; 1 g fiber; 25 mg sodium; 38 mg potassium.
Tip: Toast whole hazelnuts on a baking sheet in a 350°F oven, stirring occasionally, until fragrant, 7 to 9 minutes. Let the nuts cool for a few minutes, then rub together in a clean kitchen towel to remove most of the papery skins.
Note: Whole-wheat pastry flour has less gluten-forming potential than regular whole-wheat flour and helps ensure tender baked goods. Find it in the baking section of the supermarket or online at bobsredmill.com and kingarthurflour.com.
Tip: Most brands of white chocolate chips are actually not white chocolate at all; they're called "white morsels" and contain no chocolate. We like Sunspire (made without partially hydrogenated oil), found in natural-foods stores or online at sunspire.com, and the Albertsons/Shaw's store brand, Essensia. Eight ounces chopped pure white chocolate can be used in place of the chips.
Tip: To melt chocolate, place in a bowl and microwave on Medium for 45 seconds. Stir; continue microwaving on Medium in 20-second intervals until almost melted, stirring after each interval. Continue stirring until completely melted. Or place in the top of a double boiler over hot, but not boiling, water. Stir until melted.