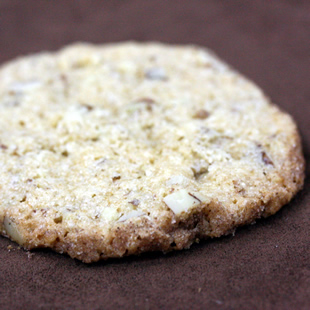 This recipe is a semi-finalist in EatingWell's 2010 Holiday Cookie Contest.
Active Time: 30 Minutes | Total: 2 1/4 Hours (including one hour chilling time) | To Make Ahead: Store airtight for up to 5 days or freeze for up to 3 months.
Makes: 4 Dozen Cookies
This cookie offers a light, crispy snack to enjoy with milk or tea.
1/2 cup unsalted butter
3/4 cup granulated sugar, divided
1/4 cup packed light brown sugar
1 large egg
1 teaspoon vanilla extract
1 1/4 cup whole-wheat pastry flour (see Note, below)
1 teaspoon baking powder
1/4 teaspoon salt
1 cup finely chopped pecans
1 1/2 teaspoons ground cinnamon
1. Beat butter, 1/2 cup granulated sugar and brown sugar in a mixing bowl with an electric mixer on medium-high until creamy. Add egg and vanilla and beat well. Combine flour, baking powder and salt in a medium bowl and add to the butter mixture. Beat on low speed until combined. Stir in pecans.
2. Evenly divide the dough and use lightly floured hands to shape each portion into a 6-inch, round log. Wrap each log in wax paper and freeze until firm, about 1 hour.
3. Meanwhile, combine the remaining 1/4 cup granulated sugar and cinnamon on a shallow plate.
4. Preheat oven to 350°F.
5. Unwrap the dough and roll in the sugar mixture. Slice each log into 24 (1/4-inch-thick) cookies. Place the cookies about 21/2 inches apart on ungreased baking sheets. Bake until lightly browned, 10 to 12 minutes. Remove the cookies to wire racks to cool.
Per serving: 63 calories; 4 g fat (2 g sat, 1 g mono); 9 mg cholesterol; 7 g carbohydrate; 4 g added sugars; 1 g protein; 1 g fiber; 25 mg sodium; 13 mg potassium.
Note: Whole-wheat pastry flour has less gluten-forming potential than regular whole-wheat flour and helps ensure tender baked goods. Find it in the baking section of the supermarket or online at bobsredmill.com and kingarthurflour.com.