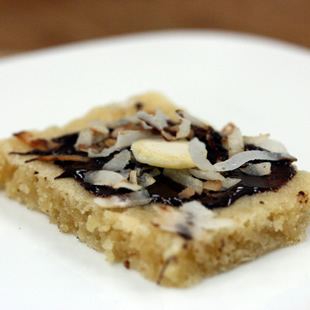 This recipe is a semi-finalist in EatingWell's 2010 Holiday Cookie Contest.
Active Time: | 30 Minutes Total: 1 3/4 Hours | To Make Ahead: Store airtight in a single layer for up to 1 day or freeze the undecorated cookies for up to 3 months. Defrost at room temperature before decorating. | Equipment: 15-by-10-inch baking pan with 1-inch sides
Makes: 48 Bars
These cookies are light and fresh. My love of coconut dates back to my childhood with my grandfather. We would buy a fresh coconut then crack it open together to share a treat. It was my time with my grandfather. My cookie toppings are the ingredients that you find in Almond Joy candy. My husband prefers to skip the coconut so I split the tray, skipping the coconut on his half. I just love, love that these cookies are so easy. Who can resist a cookie recipe that is fast, easy and tastes like a sweet childhood memory?
Ingredients:
2/3 cup granulated sugar 1/3 cup unsalted butter, softened (see Tip, below) 1/3 cup canola oil 1 large egg 1 tablespoon milk 1 teaspoon almond extract 1 cup all-purpose flour 2/3 cup whole-wheat flour 1 1/2 teaspoons baking powder 1/4 teaspoon salt 3 tablespoons melted semisweet chocolate chips (see Tip, below) 3 tablespoons toasted coconut (see Tip, below) 48 sliced almonds 1.
Directions:
Preheat oven to 375°F. Coat a 15-by-10-inch baking pan with 1-inch sides with cooking spray.
2. Beat sugar, butter, oil, egg, milk and almond extract in a mixing bowl with an electric mixer until light and fluffy. Stir in all-purpose flour, whole-wheat flour, baking powder and salt until well blended. (It will be a soft dough.) Spread the dough into a thin layer in the prepared baking pan. Bake until golden brown, about 12 minutes. Cool in the pan on a wire rack for 5 minutes. Cut into 48 bars.
3. Decorate each bar with a drizzle of melted chocolate, a sprinkle of toasted coconut and an almond slice.
Nutrition info:
Per serving: 53 calories; 3 g fat (1 g sat, 1 g mono); 6 mg cholesterol; 7 g carbohydrate; 3 g added sugars; 1 g protein; 0 g fiber; 32 mg sodium; 16 mg potassium. Tip: To soften butter, let stand at room temperature for 30 to 45 minutes. Or cut into small pieces and let stand for about 15 minutes. (Do not soften in a microwave. Microwaves heat unevenly and may cause the butter to become too soft or melted in spots.) Tip: To melt chocolate, place in a bowl and microwave on Medium for 45 seconds. Stir; continue microwaving on Medium in 20-second intervals until almost melted, stirring after each interval. Continue stirring until completely melted. Or place in the top of a double boiler over hot, but not boiling, water. Stir until melted.
Tip: Toast coconut in a small dry skillet over medium-low heat until golden, stirring often, about 5 minutes.