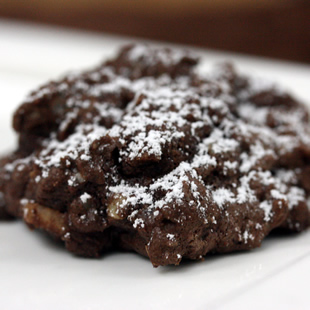 This recipe is a semi-finalist in EatingWell's 2010 Holiday Cookie Contest.
Active Time: 40 Minutes | Total: 1 1/2 hours | To Make Ahead: Store airtight for up to 3 days. Dust with confectioners' sugar just before serving.
Makes: 5 Dozen Cookies
Christmas has always been a time for cookies to shine in our family. Decades-old favorites make their much-anticipated return and an occasional new recipe wins a place in the recipe box. However, with the discovery of gluten intolerance in first my mom and then my daughter, the past few years have been ones of change to the beloved cookie table. This recipe takes the flavors of a longtime favorite cookie bar and puts them in a form that can be enjoyed by all.
3 large egg whites, at room temperature (see Tip, below)
1/8 teaspoon salt
1 cup granulated sugar
6 ounces unsweetened chocolate, melted (see Tip, below)
1 cup sweetened flaked coconut
3/4 cup pecans, finely chopped
1 tablespoon confectioners' sugar for dusting (optional)
1. Position racks in the upper and lower thirds of oven; preheat to 350°F. Line 2 large baking sheets with parchment paper or lightly coat with cooking spray.
2. Beat egg whites and salt in a mixing bowl with an electric mixer on high speed until frothy. Gradually add sugar and continue beating until soft peaks form, about 5 minuets.
3. With a rubber spatula, gently fold melted chocolate, coconut and pecans into the egg whites until no white streaks remain.
4. Drop 2 teaspoons of batter per cookie about 1 inch apart onto the prepared baking sheets, fitting about 30 cookies per sheet.
5. Bake in the upper and lower thirds of the oven until set, 10 to 12 minutes. Turn off the oven and leave the door slightly ajar. Let the macaroons cool on the baking sheets in the oven for 30 minutes. Remove from the oven and let cool completely. Dust with confectioners' sugar just before serving, if desired.
Per serving: 44 calories; 3 g fat (1 g sat, 1 g mono); 0 mg cholesterol; 5 g carbohydrate; 4 g added sugars; 1 g protein; 1 g fiber; 13 mg sodium; 37 mg potassium.
Tip: To bring an egg to room temperature, set it on the counter for 15 minutes or submerge it (in the shell) in a bowl of lukewarm (not hot) water for 5 minutes.
Tip: To melt chocolate, place in a bowl and microwave on Medium for 45 seconds. Stir; continue microwaving on Medium in 20-second intervals until almost melted, stirring after each interval. Continue stirring until completely melted. Or place in the top of a double boiler over hot, but not boiling, water. Stir until melted.