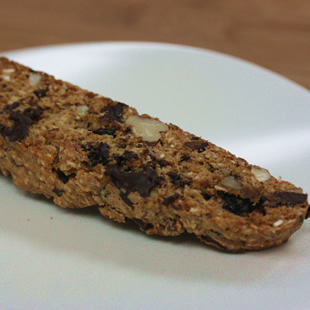 This recipe is a semi-finalist in EatingWell's 2010 Holiday Cookie Contest.
Active Time: 45 Minutes | Total: 2 hours | To Make Ahead: Store airtight for up to 3 days or freeze for up to 3 months. | Equipment: Parchment Paper
Makes: 30 Biscotti
The flavors of the season transform these whole-grain biscotti into decadent holiday treats.
1/2 cup dried tart cherries
1/2 cup golden raisins
2 tablespoons dark rum
1 1/2 cups old-fashioned rolled oats
1 1/4 cups white whole-wheat flour (see Note, below)
1/2 teaspoon baking powder
1/2 teaspoon baking soda
1/2 teaspoon kosher salt
1/4 teaspoon ground cardamom
2 large eggs
3/4 cup granulated sugar
2 tablespoons unsalted butter, at room temperature
1 tablespoon vanilla extract
1 teaspoon almond extract
1 tablespoon freshly grated orange zest
1/2 cup chopped toasted pecans (see Tip, below)
3 ounces bittersweet chocolate, chopped into small, uneven chunks
1. Preheat oven to 350°F. Line 2 large baking sheets with parchment paper.
2. Toss dried cherries and raisins with rum in a small bowl. Set aside.
3. Pulse oats in a food processor until ground to a coarse, but uniform meal.
4. Whisk the ground oats, flour, baking powder, baking soda, salt and cardamom in a medium bowl. Beat eggs, sugar and butter in a mixing bowl with an electric mixer on high speed until light, about 2 minutes. Beat in extracts and orange zest. With the mixer on low speed, gradually add the dry ingredients just until incorporated. Add the reserved dried fruit, along with any unabsorbed rum, pecans and chocolate and mix on low until evenly distributed.
5. On one of the prepared baking sheets, shape the dough into two 12-by-21/2-inch logs. Bake in the center of the oven until lightly browned and set when gently touched, about 25 minutes. Remove from the oven and let cool on the baking sheet for 10 minutes.
6. Reduce the oven to 300°; reposition the racks to the upper and lower thirds of the oven. Using a serrated knife with a gentle sawing motion, slice the partially cooled logs on a slight angle into 1/2-inch-thick slices. Place the slices, cut-side down, on the two baking sheets.
7. Bake the biscotti in the upper and lower thirds of the oven until dry on top and lightly toasted on the bottom, about 15 minutes. Turn over and bake for 15 minutes more on the second side. Transfer to a wire rack to cool.
Per serving: 114 calories; 4 g fat (1 g sat, 1 g mono); 16 mg cholesterol; 18 g carbohydrate; 6 g added sugars; 2 g protein; 2 g fiber; 53 mg sodium; 54 mg potassium.
Note: White whole-wheat flour, made from a special variety of white wheat, is light in color and flavor but has the same nutritional properties as regular whole-wheat flour. It is available in large supermarkets and at natural-foods stores. (Or find it online from bobsredmill.com or kingarthurflour.com.) Store it in the freezer.