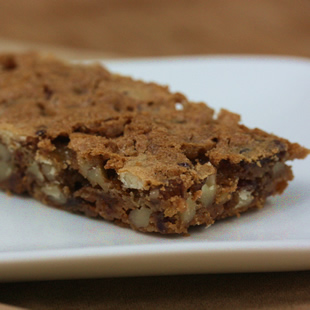 This recipe is a semi-finalist in EatingWell's 2010 Holiday Cookie Contest.
Active Time: 30 Minutes | Total: 2 Hours | To Make Ahead: Store airtight for up to 3 days or freeze for up to 3 months. | Equipment: Parchment Paper
Makes: 48 Bars
This recipe has been passed down from the older generations in my family. My great-aunt from Bay St Louis, MS, who passed away at the young age of 104, used to call it "stirrin cake" and she had it passed down from her father. My mother passed it on to my generation and of the three girls, I have mastered it to taste just like "Aunt Teenie" used to make. It required more love than flour and pecans.
1 cup all-purpose flour
1 teaspoon baking powder
1/2 teaspoon salt
1/2 cup unsalted butter, at room temperature
2 packed cups light brown sugar
3 large eggs, at room temperature (see Tip, below)
1 teaspoon vanilla extract
3 cups chopped pecans
1 cup raisins, preferably golden
1 cup finely chopped pitted dates
1 teaspoon ground cinnamon
1 teaspoon freshly grated nutmeg
1. Preheat oven to 300°F. Coat the bottom and sides of a 17-by-12-inch baking pan (half sheet pan) with cooking spray, then line with parchment paper.
2. Sift flour, baking powder and salt together in a large bowl.
3. Cream butter and sugar together in a mixing bowl with an electric mixer on medium-high speed. Add eggs one at a time and beat until creamy. Add vanilla and beat until combined.
4. Combine 1/2 cup of the flour mixture with pecans, raisins and dates in a large bowl. (Coating the dried fruit and nuts helps distribute them in the mix.) Add the remaining flour to the creamed mixture and stir until well combined. Add cinnamon and nutmeg; stir until blended into the mixture completely. Stir in the flour-coated fruit and nuts. Do not overstir. Evenly spread the batter into the prepared baking pan with a spatula. (Coat the spatula with cooking spray, if necessary, to make spreading easier.)
5. Bake for 45 minutes. Run a knife around the edges of the pan to loosen the sides. Cool in the pan on a wire rack for 45 minutes. Invert onto a large cutting board and remove the parchment. Cut into 48 squares.
Per serving: 134 calories; 7 g fat (2 g sat, 3 g mono); 18 mg cholesterol; 17 g carbohydrate; 9 g added sugars; 1 g protein; 1 g fiber; 43 mg sodium; 92 mg potassium.
Tip: To bring an egg to room temperature, set it on the counter for 15 minutes or submerge it (in the shell) in a bowl of lukewarm (not hot) water for 5 minutes.