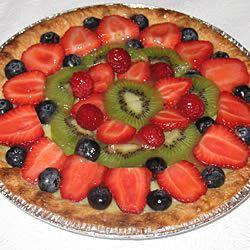 What's a girl to do with buckets of fresh tomatoes, peppers and onions from her garden?
Make fresh homemade salsa
, of course!
Usually I'm the boss in the kitchen, but when it comes to salsa, my husband, Russ, is the man. His mother is from Mexico City, so he's been eating salsa since birth. Good salsa, that she made by the gallon to feed her five kids for a little pre-dinner snack.
So I've learned the nuances of making amazing homemade salsa, like using the juiciest tomatoes possible and not overdoing it on the hot peppers. Speaking of which, here's a tip when you're prepping your peppers: the membranes that hold the seeds are the spiciest part of chile peppers (that's where the capsaicin is). The seeds pick up some spiciness by association. You can customize the heat of your salsa or hot sauce by using some or all of the seeds along with the flesh of the pepper, and tasting as you go. Be sure to wash your hands thoroughly after chopping hot peppers or wear gloves.
Here's a simple recipe for Salsa Rojo I developed in EatingWell Test Kitchen when I needed to use up a bumper crop of fresh tomatoes, peppers and onions from our garden, and some more amazing fresh salsa recipes.
If you want to save some salsa for later, just freeze it! It can be stored airtight for up to 6 months. We like to freeze it in small batches so we can defrost the amount needed for one meal at a time.
Salsa Rojo: Here's a homemade version of the tomato salsa served at taco stands and burrito joints everywhere. Try it with all your favorite Mexican foods—it even works as enchilada sauce.

Avocado-Corn Salsa

:

This colorful salsa comes together in a snap with avocado, frozen corn and ripe tomato.

Fire-Roasted Salsa

:

Charring fresh tomatoes and jalapeños on the grill gives this chunky pureed salsa great fire-roasted flavor. It works just as well under the broiler and even tastes delicious made with canned fire-roasted tomatoes.

Black Bean & Tomato Salsa

:

Adding canned beans to a spicy salsa is an easy way to boost fiber and improve nutritional value

.

Homemade Hot Sauce

:

This homemade hot sauce makes good use of the same bountiful tomatoes, onions and peppers in your garden or farmers' market that you'd use to make traditional salsa. Adjust the heat to your preference: in our tests, two habaneros yielded a pleasantly spicy sauce without excessive heat—take it up a notch for spicy-food fans by adding extra hot peppers.