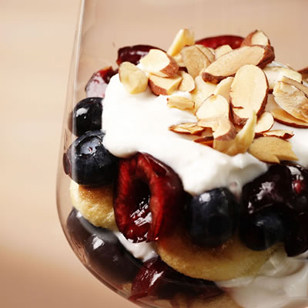 I have a hoarding instinct that kicks in when it comes to fruits like cherries that have such a short growing season (depending on where you live, roughly from June to August). I buy as many bags of cherries as I can get my hands on.
Of course I love eating cherries right off the stem but working in the EatingWell Test Kitchen has inspired me to get creative with my seasonal ingredients. (
Get 25 recipes using fresh-from-the-farmers-market ingredients here
.)
There are two basic types of cherries—sweet and sour. Sweet cherry varieties include Bing, Rainier and Lambert. Sweet cherries can be found in the produce section of most markets during cherry season. I try to look for cherries that are firm, plump and shiny without soft spots or bruising. All varieties are a source of fiber, potassium and vitamins A and C.
Since cherry season is starting I've got my favorite
sweet cherry recipes
at the ready. Here are four of the recipes I plan on making to feed my sweet-cherry fetish and keep my mouth watering:
1. I'll use them in
Cherry Ice Cream Pie with Chocolate Cookie Crust
—a melt-in- your-mouth pie perfect for an early summer evening.
2. If I'm having a snack attack, I'll smear some
Cherry Cream Cheese
on a whole-wheat cracker or two (all for a less than 100 calories!).
3. And when cherry season is long past, I'll reach for a bag of frozen cherries in my freezer and whip up a thick and tangy
Cherry-Vanilla Bean Milkshake
so I can re-live cherry season all over again.
4. Finally, I'll mix cherries with another one of my favorite fruits, blueberries, in an easy
Cherry-Blueberry Trifle recipe
. It's easy enough for a weeknight treat, but elegant enough for company. Yum!