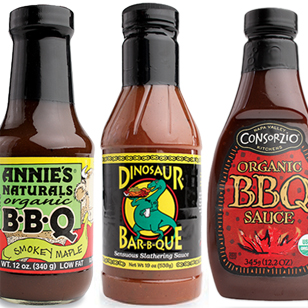 As a professional recipe tester, I'm all for cooking techniques that produce the best results. But when it comes to good barbecue, sometimes the secret is in the sauce.
Barbecue sauce can make or break a meal. But it can also make or break your diet—especially many store-bought barbecue sauces, which can be loaded with sodium and sugar.
So the EatingWell Test Kitchen crew set out to find some healthier options. Here's our criteria for healthy barbecue sauce and what you should look for when you're buying barbecue sauce:
• No high-fructose corn syrup or artificial colors in the ingredient list.
(Is high-fructose corn syrup actually any worse than sugar? Find out here.)
• Less than 300 milligrams of sodium
• 12 grams or less carbohydrate per serving
• And, of course, they have to taste great.
I'm pretty particular about my BBQ sauce, and wondered if any store-bought varieties would meet the challenge. It wasn't easy, but we hunted down some downright tasty sauces that won't hurt a healthy diet.
Which was our favorite?
Dinosaur Bar-B-Que Sensuous Slathering Sauce
.
Want more choices? Find out what 4 other brands made the cut, here.
Of the five finalist brands, it is lowest in calories and carbs, as well as the tops in both taste and texture. I thought it was nicely balanced and our food editor, Jessie Price, said this one has the best tangy, bright flavor. We also liked the Roasted Garlic Honey flavor.
Here's the nutrition profile (per 2-tablespoon serving):
Calories: 25
Total fat: 0g
Sodium: 240mg
Carbs: 5g
Sugars: 5g
Taste (1-5 stars): 4 stars