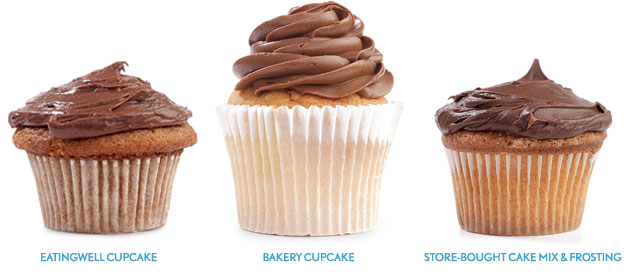 A nutritional comparison of EatingWell cupcakes vs. bakery and cake mix cupcakes.
Show me the numbers! Here's "what you get" in the EatingWell Vanilla Cupcake with Chocolate Frosting compared to a traditional bakery cupcake and a cupcake made from a typical store-bought cake mix and frosting:
EatingWell Cupcake
Calories: 295
Total Fat: 8 g
Saturated Fat: 2 g
What you get:
An ingredient list you can pronounce and half as much added sugar as the bakery cupcake.
Bakery Cupcake
Calories: 585
Total Fat: 20 g
Saturated Fat: 12 g
What you get:
Just one of these contains more than half the recommended daily saturated-fat limit.
Store-Bought Cake Mix & Frosting
Calories: 298
Total Fat: 14 g
Saturated Fat: 5 g
What you get:
Most cake mixes and frostings contain artificial flavors, artificial colors and trans fats too.