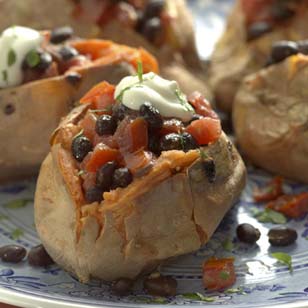 When I
recently shared my secret for making Philly cheese steaks without the meat
, I wasn't surprised to get a little pushback from meaty cheese steak lovers. (I get it. Some people just don't want their meat messed with.)
A lot of us just can't imagine a meal without a hunk of meat on the plate. But with the right recipes, you can simply swap beef, pork or chicken with a veggie-based protein
and enjoy a vegetarian meal without even missing the meat
. So, why bother? Here's why: even if you skip meat just once or twice a week,
it's better for your health and the environment
.
In honor of Earth Day on April 22, I issue this challenge to you to green up your diet: try to cook at least one meat-free meal each week for the rest of the year. Do you think you can do it? (If you want to make it official you can take the pledge with me at meatlessmonday.com and click on "Join the Movement".)
Trade in your meat for these 4 satisfying veggie options. (See how easy this is? That's a whole month's worth of once-a-week veggie meals, done!)
Beans
Beans are the perfect "gateway" food when you're going meat-free. First of all, they're convenient and cheap. You can buy a can (a whole pound!) of cooked beans for just a couple of dollars. Use them to replace meat in everything from tacos to chilli to pasta. Not only are beans delicious, they're nutrient powerhouses. On average, just 1/2 cup of beans provides about 7 grams of protein and up to 7 grams of fiber. I love topping baked sweet potatoes with spiced up black beans for a quick and satisfying dinner.
Recipe to Try: Sweet Potatoes with Warm Black Bean Salad
Tofu
Tofu is growing in popularity among vegetarians and meat-eaters alike—and for good reason. (
Tofu-phobic? This Tofu Parmigiana will change your mind!
) Tofu, a great source of soy protein, also boasts significant calcium and magnesium. Plus it's super-versatile. Extra-firm tofu is ideal for stir-fries, sautés and grilling, while the soft variety makes a good substitute for ricotta in Italian dishes or for eggs in quiches. Tofu is available at natural-foods stores and most large supermarkets. Crumbled tofu makes a great meat-free lasagna filling—you can't even tell it's there hiding under all the yummy sauce and cheese.

Recipe to Try: Lasagna Rolls
Tempeh
If you're keen to explore vegetarian options, try protein-rich tempeh. Tempeh is a chewy, nutty, fermented soybean loaf. Find it (plain or with added grains) near refrigerated tofu in natural-foods stores and many large supermarkets. We particularly like SoyBoy 5 Grain and Lightlife Flax tempeh. After opening, wrap and refrigerate for up to 5 days. I love tempeh smothered with meaty mushrooms and provolone cheese.

Recipe to Try: Smothered Tempeh Sandwich
Seitan
Seitan's toothsome texture and taste make it a perfect vegetarian stir-fry ingredient that even non vegetarians will love. Seitan is processed wheat gluten that is high in protein and has a meaty texture. You can find it in natural-foods stores or large supermarkets near the tofu. The actual weight of the seitan in a package varies depending on whether water weight is included. Look for the "drained weight" on the label. I like to add bite-size pieces of seitan to my veggie stir-fries, then toss with a rich sauce to pull all of the flavors together.
Recipe to Try: Garden-Fresh Stir-Fry with Seitan