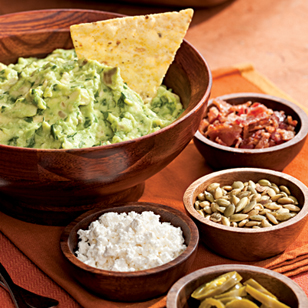 I heart
guacamole
. I can eat it morning, noon and night (really). I like to have the ingredients on hand to make it for a pre dinner snack or for when guests stop by on a moment's notice. The key to making awesome guacamole, like
Roasted Garlic Guacamole with Help-Yourself-Garnishes
from Rick Bayless's upcoming book,
Fiesta at Rick's,
is to use the freshest ingredients. Here are some tips for buying the key produce items—garlic, avocados, cilantro and lime—to make the best guacamole.
Are you one of the people who would argue that making guacamole with anything more than avocados, salt and lime juice is a recipe for disaster? What do you put in your best guacamole recipe?
Avocados

(Get 10 more amazing avocado recipes here.)
Look for
: Hass avocados are a popular variety in the United States. The slightly bumpy skin turns from green to purplish-black as it ripens. Look for the "button"—the tip of the stem—still attached to a Hass avocado. Sometimes the button falls off an avocado when it's ripe, but the remaining indentation should still be green. If the indention is black, the avocado may be rotten.
Storage tip
: Hass avocados don't begin to ripen until they are picked. A hard, green avocado will need about a week to ripen. If it's green-black and slightly soft, it'll ripen in a few days. One that's black and soft is ready to eat. Ripen a hard avocado by leaving it at room temperature until its skin has turned from green to black and it yields to gentle pressure.
Recipe idea:
Avocados for dessert? You bet! Try the
Avocado Ice Cream
recipe that Rick Bayless made when he won the finale of
Top Chef Masters
last year.
Garlic

(Click here for dozens of recipes for garlic lovers.)

Look for
: Plump, dry heads that feel firm.
Storage tip
: Store in a cool, dark place.
Cilantro

Look for
: Bright green leaves that look fresh, not wilted.
Storage tip
: Wrap the root ends in damp paper towels and store in a bag in the refrigerator for up to a week.
Cooking tip
: The stems have as much flavor as the leaves, so don't be afraid to use them. Just discard any tough stems before chopping.
Recipe idea
: Try vibrant
Cilantro Pesto
on fish or chicken.
Lime

Look for
: Shiny, bright green fruit that feel heavy for their size. Opt for limes that give a little when squeezed rather than hard ones.
Storage tip
: Store in your refrigerator for 1 to 2 weeks.