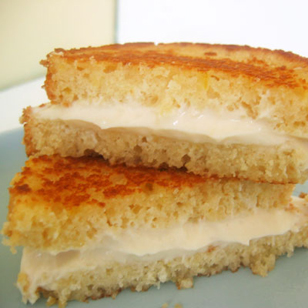 Three hours after I posted EatingWell's
healthier pound cake recipe
on
our Facebook page
for National Pound Cake Day (yes, there is such a day—it was March 4), Carrie O. from Idaho posed a challenge: "If only EatingWell could lighten up the Grilled Cheesecake. It uses pound cake so you're halfway there!"
Grilled Cheesecake
? Oh boy.
I took a look at the recipe Carrie posted, which is basically 2 slabs of pound cake with a slice of cheesecake in between, slathered with butter and grilled like a grilled cheese sandwich. Hey, I thought, this actually could be good—and fun too.
Our Test Kitchen cooks love to take classic unhealthy recipes and make them healthier
. So we took Carrie's challenge.
We put our Test Kitchen intern, Katelyn McCarthy, on the project. First, she made the real thing. It was good.
Really
good. The pound cake was buttery and crispy and the slab o' cheesecake in the middle was all warm and melty. But it had a whopping 560 calories and 35 grams of total fat—20 grams of it saturated fat. Not something you could feel good about eating. The Test Kitchen cooks talked through the process of making it healthier and decided to skip baking a whole cheesecake (the best part of the cheesecake is the filling, right?) and just come up with an easy cheesecake-like filling to use with our
Buttermilk Pound Cake recipe
. After a few tries, we found a combination that had great cheesecake texture and flavor. (Get recipes for more desserts made healthier like
strawberry shortcake
,
rhubarb upside-down cake
and
lemon poppy-seed cake
.)
Here is our updated version of Grilled Cheesecake with less than half the calories, nearly half the fat and a quarter of the saturated fat of the original. Enjoy!
Sweet Grilled Cheese
Makes 1 serving
5 teaspoons reduced-fat cream cheese (Neufchatel)
1 teaspoon sugar
1/4 teaspoon lemon juice
1/8 teaspoon vanilla extract
2 1/2-inch slices
Buttermilk Pound Cake
2 teaspoons canola oil
1. Combine cream cheese, sugar, lemon juice and vanilla in a small bowl until smooth and spreadable.
2. Brush one side of each slice of pound cake with oil.
3. Spread the cream cheese mixture on the unoiled side of one slice of the pound cake and top with the remaining slice, oil-side up.
4. Cook the sandwich in a nonstick skillet over low heat until golden brown on the first side, 3 to 4 minutes. Flip and continue cooking until the second side is golden brown and the filling is warm and melty, 1 to 2 minutes more.
EatingWell Version
323 calories
17 grams total fat
5 grams saturated fat
Original Version
560 calories
35 grams total fat
20 grams saturated fat