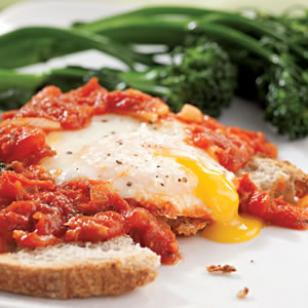 Four quick and healthy dinner recipes under $2 per serving.
A few weeks ago I noticed that Judy Billard, our circulation director, was delivering cartons of eggs to some of our co-workers almost on a daily basis. She's just one of many taking part in the growing trend to keep backyard chickens for egg laying, a trend that has urban coops (and ordinances) popping up across the U.S. and reported chick shortages as new chicken farmers stock up. Keeping your own layers (or knowing someone who does) gives you access to the freshest eggs—a real treat for egg lovers like us.
Even if you don't have chickens in your backyard, you probably have a carton of eggs in your fridge. And at about 20¢ an egg, when you crack them open you have the start of a really "cheep" dinner. No matter where you get your eggs, you're going to love eating them in these easy recipes. Try them on pizza with bacon and ­asparagus or poached in tomato sauce and slathered over toasted bread. We don't need to egg you on: these recipes speak for themselves.