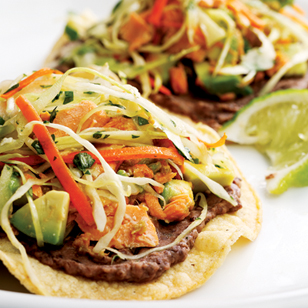 Limit sodium.
Ban trans fats
. I know, I know. Keeping my heart in healthy form means paying attention to what I eat. And, let's face it: I'm a nutrition editor, so I obviously like eating healthfully. But what's with all of the negative talk? Can't we just focus on what we
can
eat? What I
should
eat? Let's hear something positive for a change. And that's why I absolutely love the American Heart Association's recommendation to eat fish, particularly fatty kinds like salmon, twice a week to get healthy amounts of omega-3s. (
Get more with easy recipes for Blackened Salmon Sandwich and 25+ more meals
.)
Eating fatty fish may reduce the risk of heart disease by 30 percent, research suggests. The omega-3 fats in fish lower triglycerides and blood pressure; they also can help prevent irregular heart rhythms. (
Click here for a full 28-day meal plan of heart-healthy recipes
.)
Right now, I'm pregnant (not to mention feeding a little guy who's not yet two), so I'm careful to make my two servings of fatty fish ones that are especially low in mercury and other toxins. Lately, I've been eating lots of wild salmon: it's high in omega-3s, low in mercury and a sustainable choice. Try four of my favorite recipes:
Salmon & Eggplant Curry:
We're such curry fans that we buy the giant bags of jasmine rice. This recipe pairs salmon with eggplant, another great source of soluble fiber, and sugar snap peas (mmm...). Basil and lime infuse the coconut milk with just the right flavor.
Salmon with Pepita-Lime Butter:
This super-simple (fast!) recipe, seasoned with chili powder and lime, has great Mexican flair. I like to pair it with Maple-Roasted Sweet Potatoes and sautéed spinach for a dinner that weighs in under 500 calories and provides loads of powerhouse nutrients (beta carotene, fiber, folate).
Salmon & Roasted Vegetable Salad:
Roasted veggies and salmon (canned works great!) on leafy greens with a flavor-packed vinaigrette makes for a hearty dinner that's packed with good nutrition.
Black Bean & Salmon Tostadas

:
Avocados (which provide heart-healthy monounsaturated fats) and black beans (full of cholesterol-controlling soluble fiber) are big in my house—and canned salmon makes this recipe easy enough for weeknights.