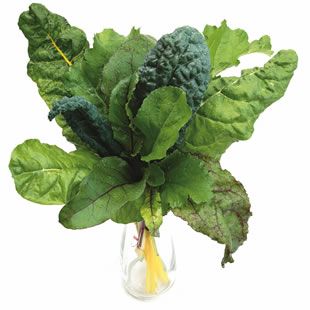 Eat to beat global warming with these delicious climate-friendly recipes.
Want your diet to have a lower carbon footprint? Here's a days worth of recipe ideas featuring low-carbon ingredients to inspire you. (We used the low-carbon diet calculator at www.eatlowcarbon.org as a guide. Check out their FAQ's for great tips on eating a low-carbon diet.)
Breakfast idea:
Try
Buttermilk-Oatmeal Pancakes
. Whole-wheat buttermilk pancakes are a low-carbon breakfast, and this recipe provides nearly a quarter of your daily calcium needs. Keep this meal low carbon by skipping the maple syrup.
Lunch idea:
Pair
Multi-Bean Chili
with a
Basic Green Salad with Vinaigrette
. Use beans from a store that sells them in bulk to keep from having to buy canned beans and using fresh, seasonal local vegetables, when possible.
Dinner idea:
Make a meal out of
Oven Fried Chicken
,
Mashed Potatoes
and steamed seasonal vegetables.
Dessert idea:
Snack idea:
Snack on
Roasted Garlic Hummus
and raw seasonal veggies.