Going meatless, even once a week, can have real health benefits. A vegetarian diet has been shown to reduce your risk of heart disease, type 2 diabetes and even certain types of cancer. Plus, a plant-based diet can make losing weight easier. Why? Plant-based foods, like vegetables, beans and lentils, are full of fiber, which helps you feel satisfied on fewer calories. Here we pulled together some of our best vegetarian 500-calorie dinners to help you lose weight and stay healthy. If you're following a 1,500-calorie diet (a calorie level most people will lose weight on), 500 calories at dinner is an appropriate amount to aim for. With these delicious and satisfying 500-calorie meals, you won't even miss the meat.
Don't Miss: Vegetarian Meal Plan: 1,500 Calories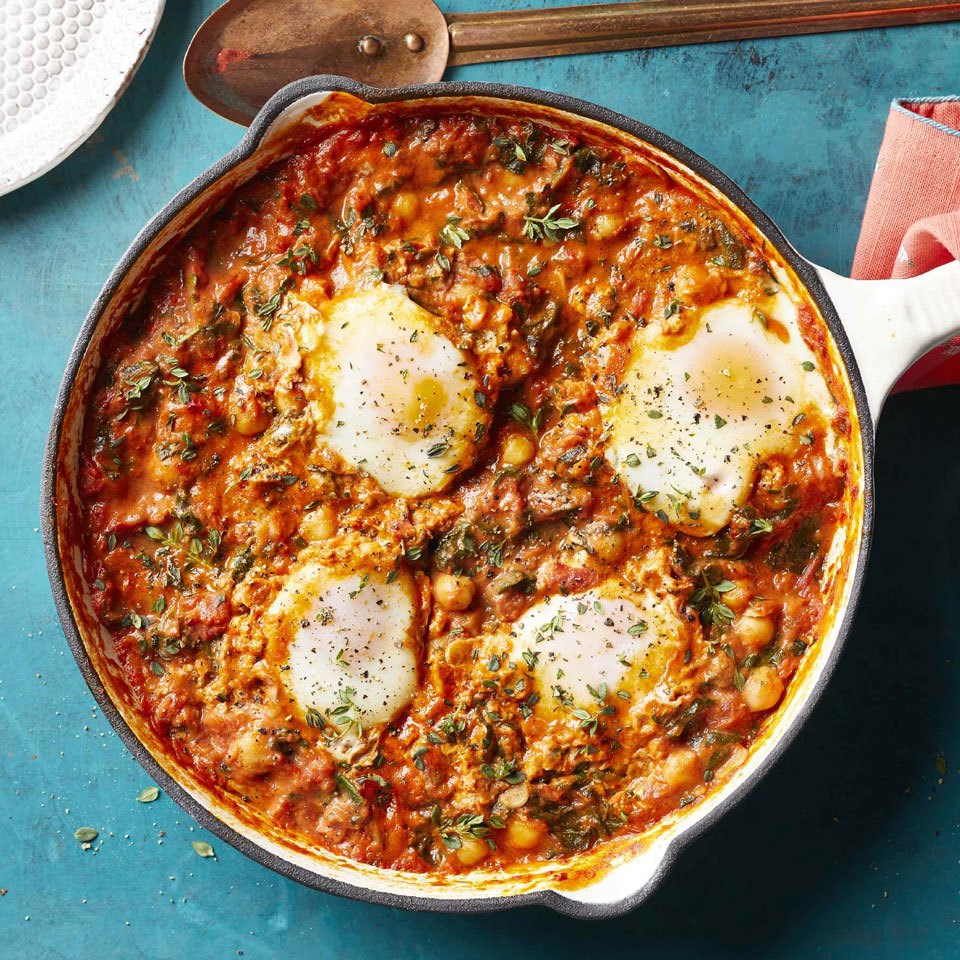 323 calories
Simmer eggs in a rich tomatoey cream sauce studded with chickpeas and silky spinach for a super-fast vegetarian dinner. Ready in a quick 25 minutes, this easy dinner is ideal for busy weeknights.
Serve with:
• 1/2 piece naan bread (152 calories)
Total: 475 calories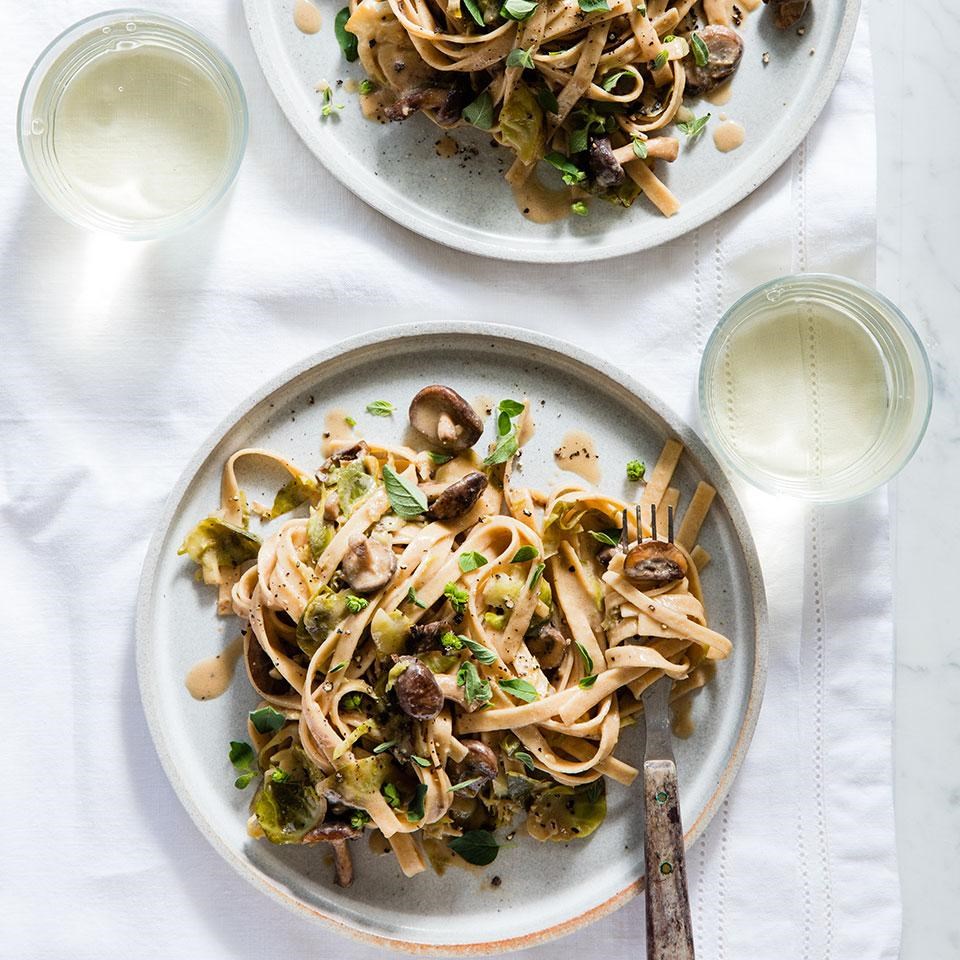 384 calories
In this healthy version of a creamy pasta primavera, sliced Brussels sprouts and mushrooms cook quickly in a homemade cream sauce to create a veg-heavy pasta dinner. This mouthwatering meal will make its way to your dinner table in just 30 minutes.
Serve with:
• 2 cups mixed greens dressed with 1 Tbsp. Balsamic Vinaigrette (91 calories)
Total: 475 calories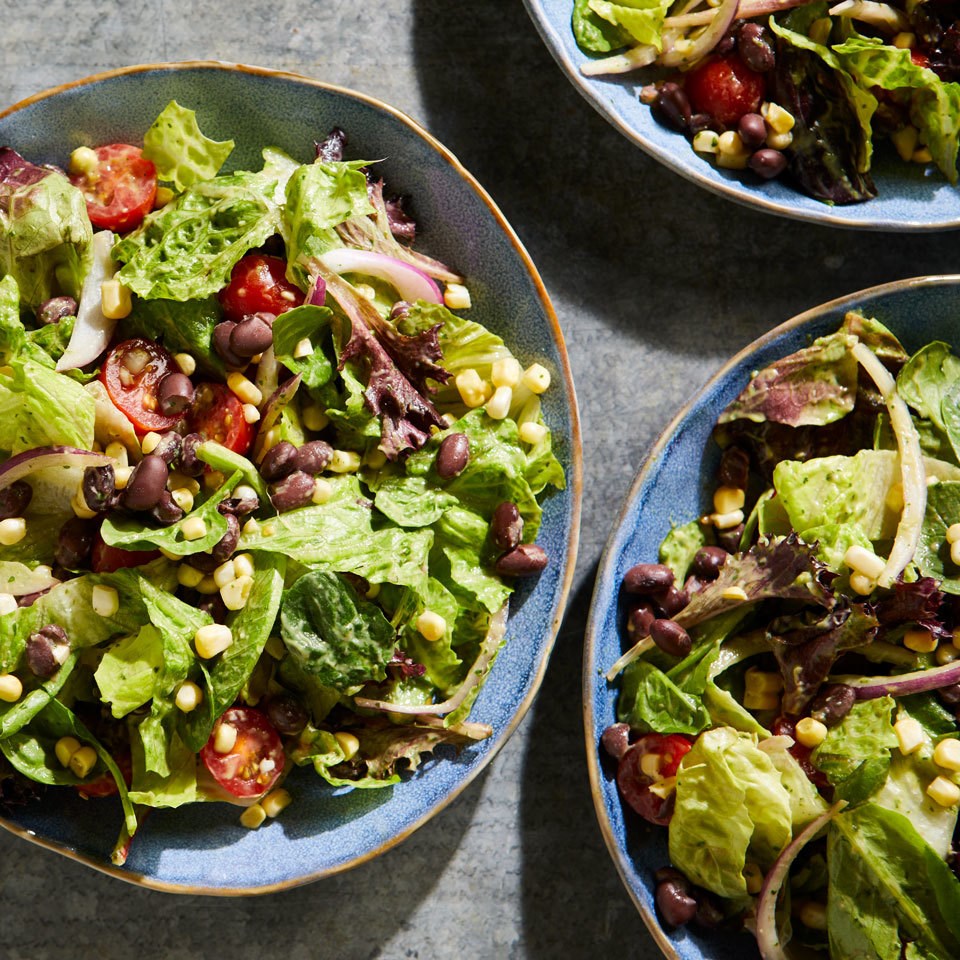 322 calories
This easy vegetarian salad combines canned black beans, leafy greens, sweet corn, cherry tomatoes and sliced red onion with a creamy avocado-cilantro dressing. This simple salad is tangy, delicious and a great addition to your dinner roundup.
Serve with:
• 1/2 medium baked sweet potato topped with 1 Tbsp. shredded Cheddar cheese, 1 Tbsp. sour cream and 1 Tbsp. salsa (138 calories)
Total: 460 calories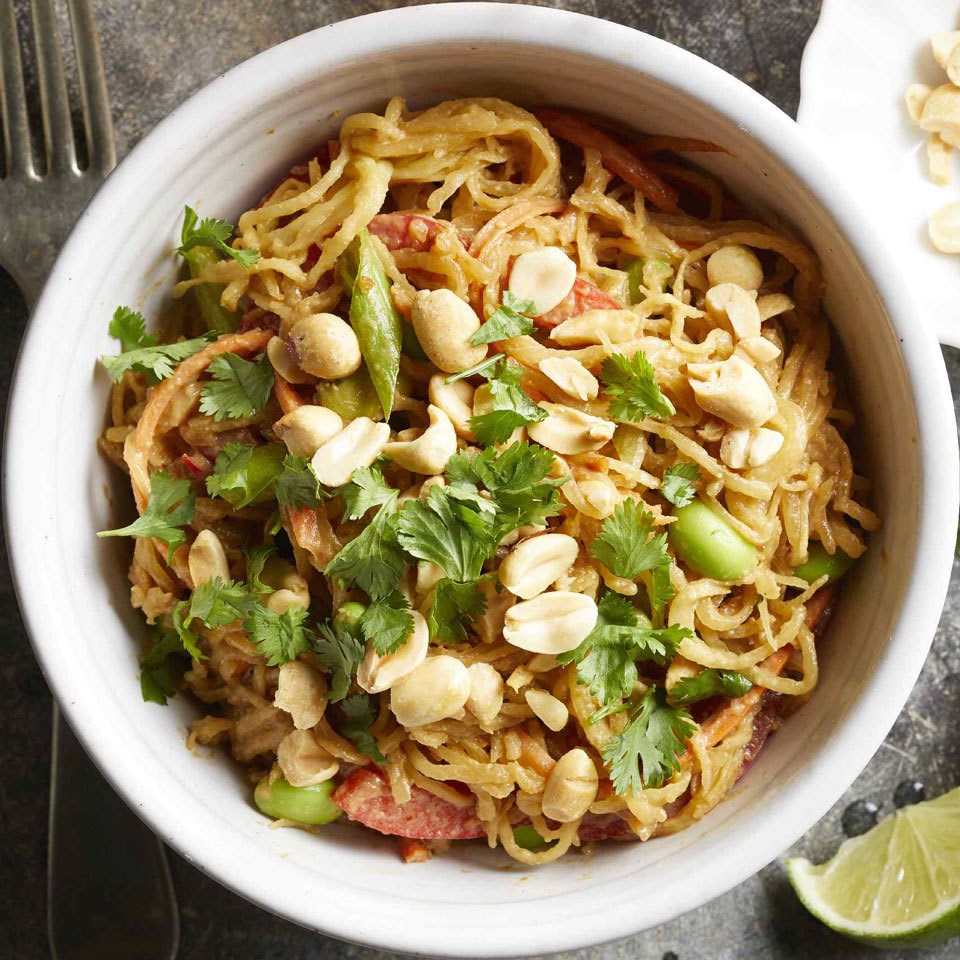 419 calories
This gluten-free, vegan version of peanut noodles has a high protein content thanks to edamame and peanut butter. Spaghetti squash turns delicately sweet when roasted, which pairs well with the Thai-inspired peanut sauce.
Serve with:
• 1 cup cubed pineapple (83 calories)
Total: 502 calories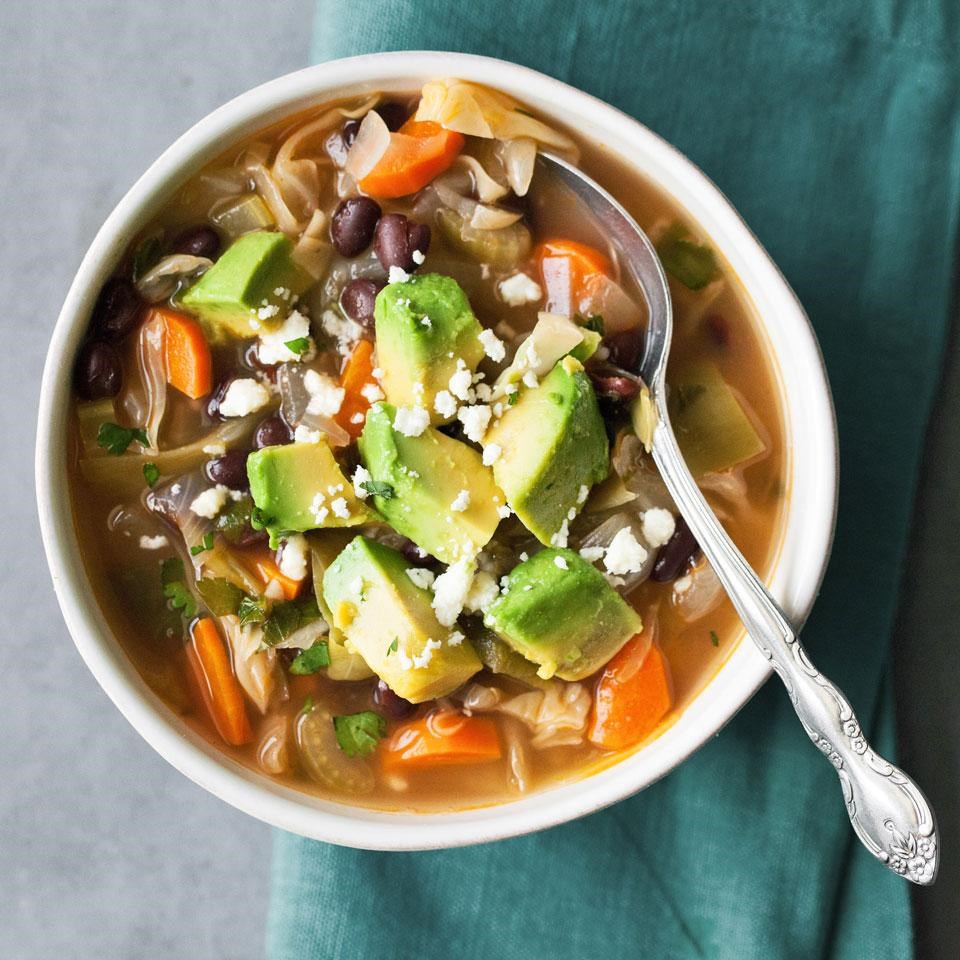 174 calories
This healthy cabbage soup recipe gets tons of flavor and a metabolism-boosting kick from spicy chiles. Top soup with 1/4 avocado, 1 Tbsp. queso fresco and 1 Tbsp. sour cream (127 calories). Make a big batch of this tasty soup and enjoy leftovers for lunch.
Serve with:
• 1 serving tortillas chips (140 calories)
• 1/2 cup pico de gallo or salsa (40 calories)
Total: 481 calories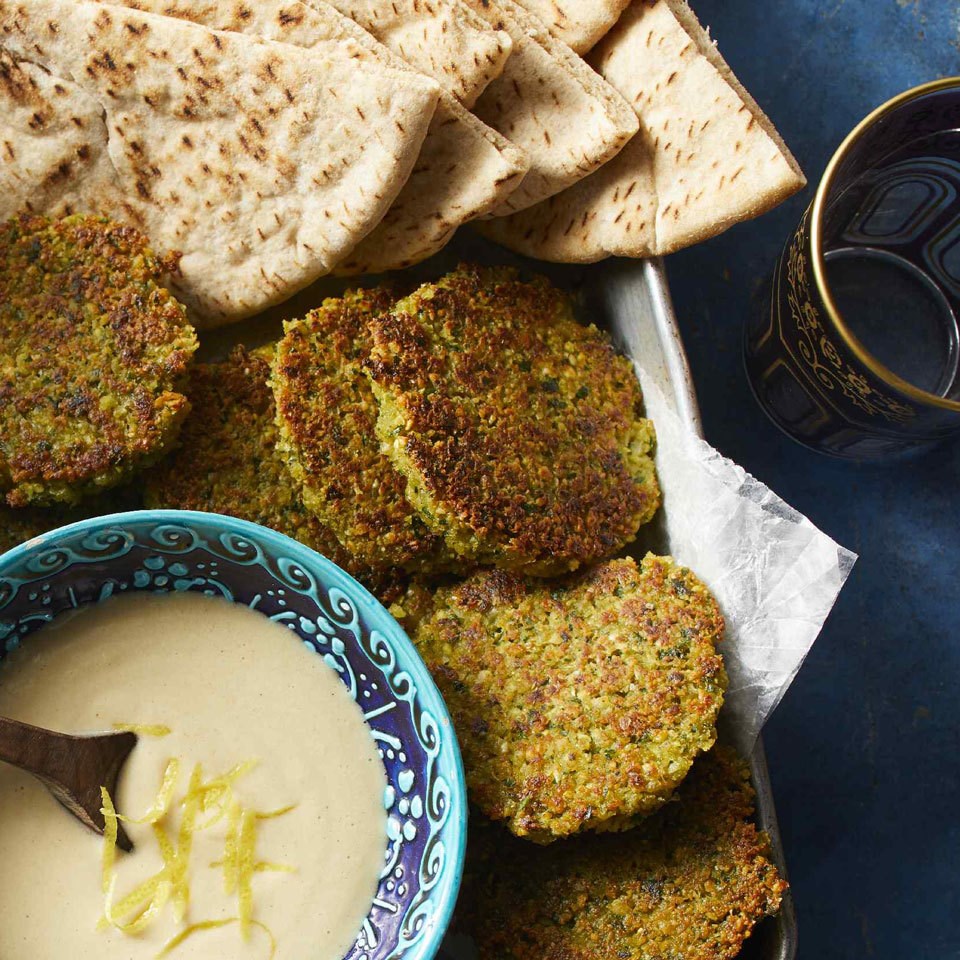 331 calories
Tuck these tasty chickpea patties into whole-wheat pitas and top with tahini sauce for a savory vegetarian sandwich. Add slices of cucumber for some crunch and toss the remaining cucumber with a little salt, pepper and lemon juice for a quick cucumber side salad.
Serve with:
• 1 Tbsp. Tahini Sauce with Lemon & Garlic (50 calories)
• 1/2 (6-inch) whole-wheat pita bread (84 calories)
• 1 cup sliced cucumber tossed with a little lemon juice, salt and pepper (16 calories)
Total: 481 calories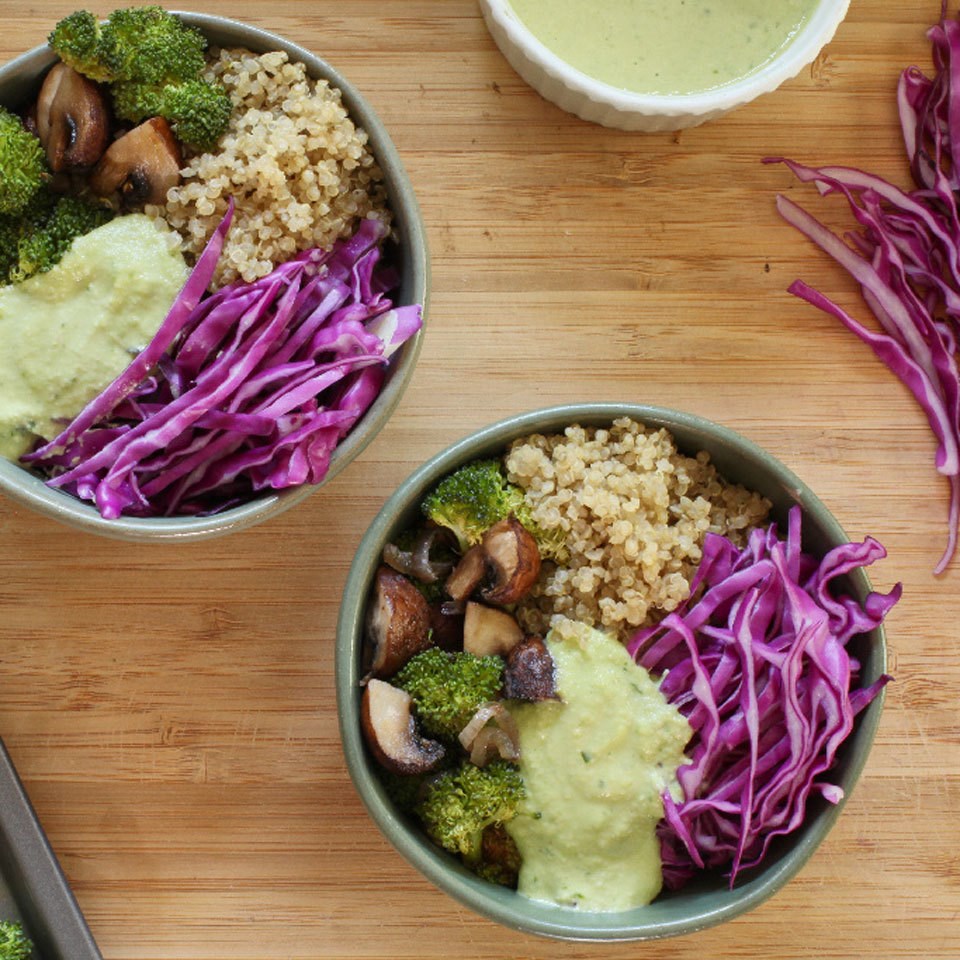 340 calories
In a vegan riff on green goddess dressing, cashews provide a creamy base with tons of flavor from herbs and apple-cider vinegar. Drizzle it all over this bowl of quinoa and roasted vegetables to make a satisfying vegan dinner or easy packable lunch that is ready in just 30 minutes.
Serve with:
• 1 serving Chocolate-Pistachio Kiwi (142 calories)
Total: 482 calories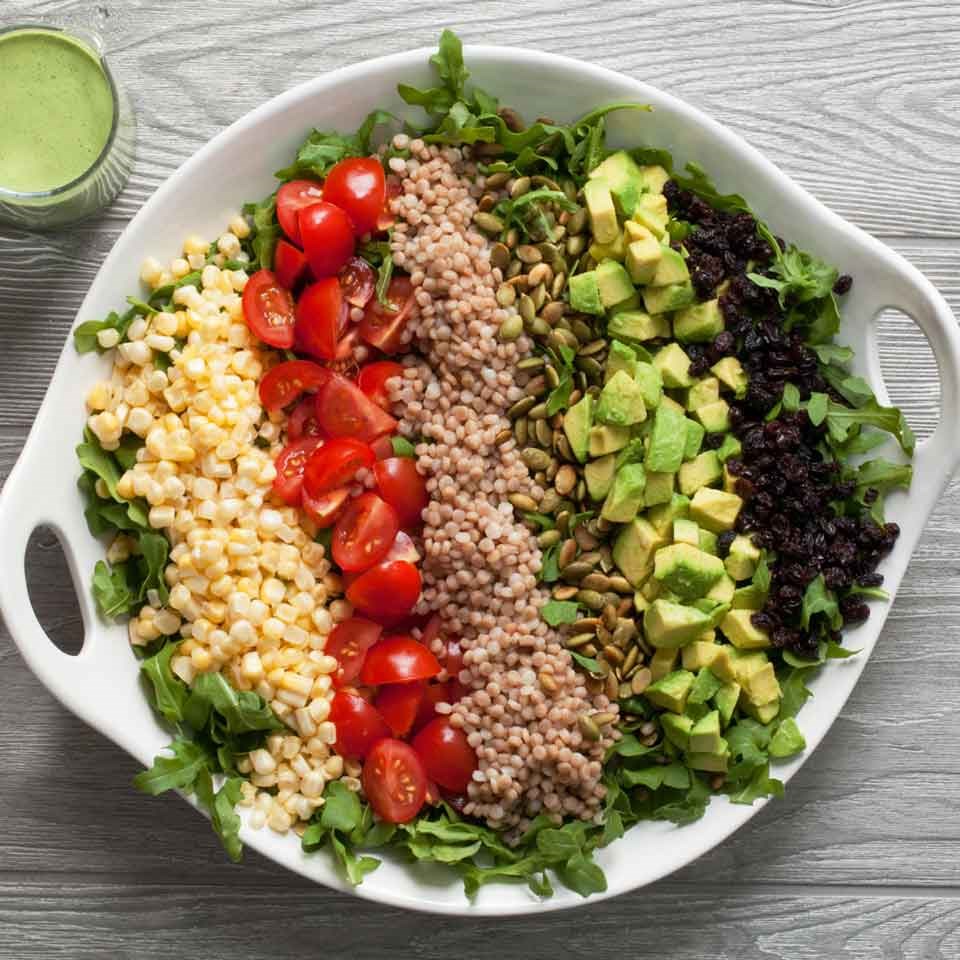 376 calories
Knock it out of the park at dinner with this composed salad recipe. This filling salad packs in colorful vegetables and a variety of textures from whole grains, seeds and a creamy homemade dressing for a photo-worthy, healthy meal.
Serve with:
• Whole-wheat baguette (1/8 loaf) (119 calories)
Total: 495 calories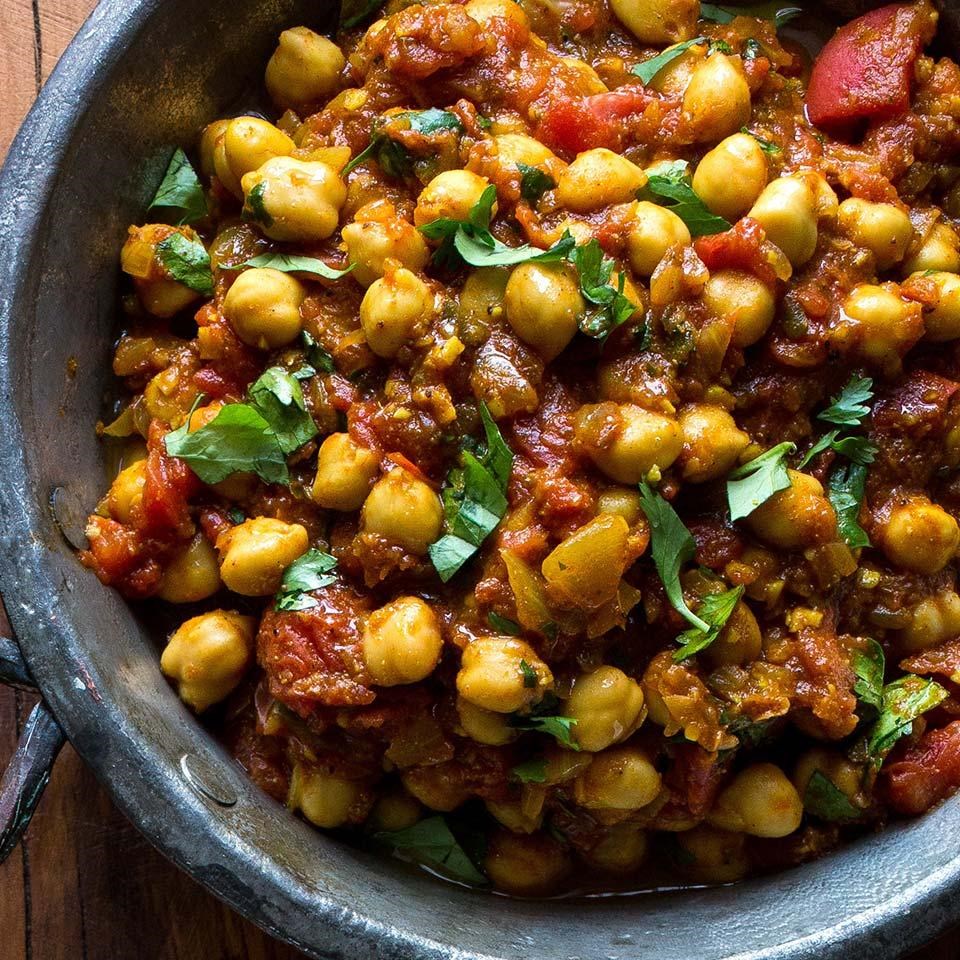 278 calories
Made with convenient canned beans, this quick and healthy Indian recipe is an authentic chickpea curry that you can make in minutes. If you want an additional vegetable, stir in some roasted cauliflower florets to fill this dish out.
Serve with:
• 1 cup Easy Brown Rice (220 calories)
Total: 498 calories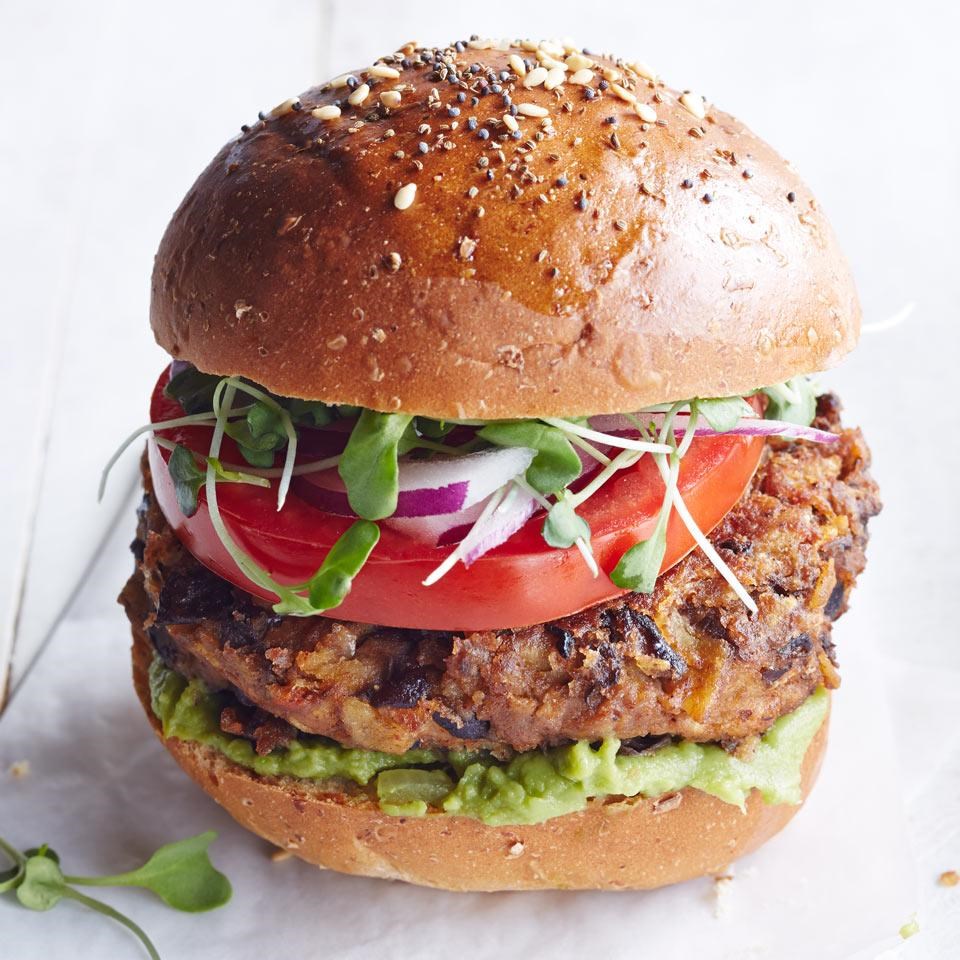 404 calories
Salsa and some pantry staples give this vegetarian bean burger recipe tons of flavor. We use crushed tortilla chips to bind the burgers together, making them a great vehicle for using up those crumbs that inevitably fall to the bottom of the bag.
Serve with:
• Grilled Sweet Potato Wedges (96 calories)
Total: 500 calories
Don't Miss:
7-Day Vegetarian Weight-Loss Meal Plan: 1,200 Calories
The Best 30-Day Vegetarian Diet Meal Plan
Vegetarian Dinner Recipes