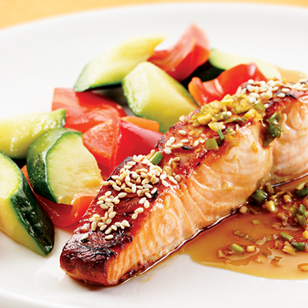 I was well into my first week of cooking and eating
500-calorie dinners
five nights a week as part of our
500-Calorie Dinner Challenge
when I realized: cooking meals to help you lose weight is all about making it work for you. My challenge? I'm just too busy. Last week I was in Philadelphia to go on QVC to sell our new
EatingWell 500-Calorie Dinners book
, and the next morning I was back in the office in Vermont at 7 a.m. to start doing radio interviews for the book. Needless to say, things are a little hectic for me at the moment. Here's how I'm making it work and
3 tips for making it work for you
too
.
1. Make it easy and quick
The other night when I got back from Philly making a healthy dinner was no problem because I had already planned and shopped for the meal. I made awesome
pork chops with orange and fennel salad
from our new cookbook along with quinoa. It was so simple. The whole thing was done in about half an hour. The
honey-soy broiled salmon
that's pictured above is planned for next week (see the
full 5 nights of menus for next week
). That's another great example of a super-easy, fast recipe (20 minutes of active time) that will work when things are a little crazy.
2. Eat what you love
The menu that goes with the pork chops with orange and fennel salad has a delicious dessert option,
Fast Strawberry Frozen Yogurt
, but I don't have much of a sweet tooth. So with this meal I had a small glass of red wine instead of the dessert.
3. Make it work for the whole family
My other issue is, I'm just cooking for two, and a lot of EatingWell recipes are for four. And I want to make sure my husband, John, who's not dieting and needs more calories than me anyway, gets enough to eat. So how do I make that work? I often cook the recipe for dinner and then John and I share the leftovers for lunch the next day. Last night I made the recipe, but modified it: I bought just enough meat for the two of us, 8 ounces instead of the pound the recipe calls for. I basically left everything else the same. So I had a regular portion of meat and salad. John ate a little extra salad and I took the rest for lunch to work. I also made sure John had enough to eat by making a little extra quinoa. I ate the 1/2-cup serving of quinoa (which is 111 calories) to keep my whole meal in the 500-calorie range. He ate about 1 cup. (For some great
tips on how to judge healthy portion sizes
check out this article from weight-loss expert, Dr. Jean Harvey Berino.)