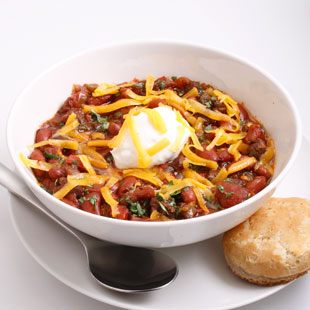 Pittsburgh Steelers nutritionist Leslie Bonci helps players eat to beat the odds of heart disease.
With the NFL playoffs under way, even part-time football fans are tuning in on Sundays: rooting for favorite teams, challenging refs' calls, cringing when a player gets injured. But few on the sidelines are thinking about these guys' hearts—and neither are the players, says Leslie Bonci, R.D., C.S.S.D., team nutritionist for the Pittsburgh Steelers, reigning Super Bowl champions. "The worst they're thinking about is an injury. It isn't a heart attack now or 20 years down the road," says Bonci, author of Sport Nutrition for Coaches (Human Kinetics, 2009). But Bonci is thinking about the Steelers' long-term health; in fact she considers it a big part of her job. "The acronym I use when I work with athletes is SHOP: Safeguard Health, Optimize Performance," says Bonci. "They may only care about the 'OP' but I care about the 'SH' too."
I met Bonci last summer at St. Vincent College in Latrobe, Pennsylvania—during Steelers training camp. Bonci is tiny, with cropped hair and a friendly smile. As the players amble into the cafeteria after practice, they make a point to say hi. Hines Ward flashes a smile on his way to the grill. Troy Polamalu gives a wave. Head coach Mike Tomlin stops by to say hello—and to prove that he's been paying attention to Bonci's team lectures. "Lean meat. Fruit. Salad—that's healthy, right Leslie?"
Playing with heart
Most NFL players are in their twenties and thirties, a time when risk of heart attack and related conditions, such as diabetes and stroke, is still very low. But in the last couple of decades, there's been growing concern over the increasing size of professional football players—particularly linemen, who often weigh in at well over 300 pounds—and how it affects their hearts. In response, the National Football League (NFL) established a committee about five years ago to examine the cardiovascular risk of active and retired players. Robert Vogel, M.D., a professor of medicine at the University of Maryland, co-chairs that committee. In a study published in a May 2009 issue of the Journal of the American Medical Association, Vogel and his colleagues compared the cardiovascular risk factors of 504 NFL players to those of "regular" men the same age. The football players—who were much bigger than the other men—had a higher rate of hypertension but a lower prevalence of impaired fasting glucose (predictive of diabetes, which is associated with heart risk). Cholesterol levels were comparable between the groups. "When you put it all together," says Vogel, "the risk for these very large athletes is about equivalent to that of much smaller men the same age. The problem is that, when these guys retire, they stay about the same size, so their risk becomes equivalent to someone who is 250 pounds, not someone who is smaller."
A retired ballplayer has to learn to eat, well, like the rest of us, says Heidi Skolnick, M.S., C.D.N., team nutritionist for the New York Giants: "No longer does an active career demand eating 3,500 calories (for a wide receiver) to 5,000 calories (for a lineman). To not gain weight, a large player may need to cut more than 2,000 calories a day when he stops playing."
Unfortunately, says Bonci, "the appetite doesn't automatically switch off." So she makes sure her players learn the basics of healthy eating while they're on the job. She also customizes eating plans to make players stronger and faster and help them improve their cholesterol levels and blood pressures.
One of her latest successes is Charlie Batch, the Steelers' backup quarterback. Just before last year's AFC Championships, Batch called Bonci. "His blood cholesterol was a little higher than it'd been in the past and he wanted to lose weight," she says. The two sat down and worked up a plan for how he could lose weight and lower his cholesterol. Eating out was Batch's biggest challenge.
Bonci helped Batch navigate restaurant menus. "He'd literally be at a restaurant, texting me lists of the choices," Bonci says. Batch used to gravitate toward entrees like Fettuccine Alfredo, which can deliver more than 1,000 calories and 53 grams of saturated fat—two and half times the recommended daily limit. "Now, I'll have the petite steak, with a Caesar salad or the fried calamari," says Batch. He has also switched from apple martinis (which can pack 300 calories each) to red wine (150 calories per glass, with some heart-healthy antioxidants to boot)—and learned to sip more slowly. By the start of the 2009-2010 season, Batch had dropped 12 pounds and 4 percent body fat and reduced his total cholesterol by 20 percent.
Defensive tackle Casey "Big Snack" Hampton (listed at 6'1" and 325 pounds) has also worked closely with Bonci. "Casey has high cholesterol and high blood pressure. It is a problem, but he's never going to be tiny," says Bonci. "He's incredibly fast for his size." But in 2008, he reported to training camp much heavier than he should have been and wasn't able to complete a running exercise. "He wasn't going to see the field," Bonci says. Bonci arranged with the training camp's cafeteria to make Hampton special meals. "I said, 'This is what you can serve him.' I was in total control of his eating—for a reason. His weight was a health issue." This year, Hampton ate with the rest of the team. "There was 'less' of Casey reporting to camp this season," says Bonci, noting that he also reduced his "bad" LDL cholesterol. "'Down' is good. Even when you have an existing health condition, anything you are doing in that direction is a step in the right direction."
Architect of the café
When Leslie Bonci reported to her first Steelers training camp in 1992, she was shocked by what she saw in the cafeteria: "Creamy soups, hush puppies, French fries, fried chicken, cheesecake," recalls Bonci. "I'm thinking, they're going to have heart attacks—and who can perform with this stuff? But I couldn't just say, 'Let's have tofu.' That just doesn't work." Immediately she started working on healthier menus—ones the players would actually eat. "The taste thing is critical," says Bonci.
While fried foods—and other long-time favorites, such as pizza—remain on the menu even today, they're far outnumbered by healthier options, which the players seem to prefer. "These days, bison burgers are a big hit," Bonci says. "And chicken—blackened or Cajun. Fish goes over really well. They love meaty fish, like halibut and salmon."
The Steelers' training cafeteria is set up in a way that helps players get what they need after a workout. A table stocked with beverages and ingredients for smoothies—fruit, juices and protein powder—is the first thing players see when they come in after practice. At the next turn is a giant salad bar with colorful fruits and vegetables—many sourced locally—and lean proteins, such as chicken and beans. The grill line is across from the salad bar. Desserts are crowded onto a small table in the back, near the kitchen. The pizza is all the way on the other side of the cafeteria, behind the seating areas.
From that corner, a voice bellows: "Hey, Leslie. Look who's at the pizza bar." Bonci tells me that the "whistleblower" with the buzz cut and broad shoulders is Craig Wolfley, who was an offensive lineman for the Steelers in the 1980s and now is a journalist covering training camp. The guy he's ratting out is Tunch Ilkin, his radio sidekick. Ilkin was an offensive tackle for the Steelers during Bonci's first year as team nutritionist. Now a "civilian," he seems to have adjusted his intake accordingly. "I'm just having one slice," Ilkin yells back. "You told me that if I love a food, I should have it—just not too much."
"Oh, I've taught them well," Bonci says, laughing.