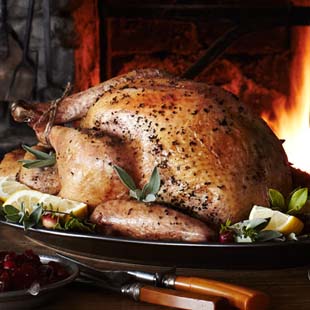 I want to host Thanksgiving, but I'm not made of money. So instead of heading straight to the poor house after Turkey day, I'm going to shop savvy and save some serious dough on the big meal.
Here are a few tips to help save $150 on your Thanksgiving dinner:
1. Change the Day
Who says Thanksgiving has to be held on Thursday? There are plenty of advantages to celebrating it later in the week. From a financial standpoint, you can't beat the day-after sales. The most expensive part of Thanksgiving is the turkey, and once Thanksgiving is over, the grocery stores are ready to unload their extra birds for less. You may also find deals on other Thanksgiving supplies like canned pumpkin, cranberries and stuffing. And if you've got two sides of the family begging for your presence at their special dinner, you can keep everyone happy by attending one dinner one night and the other the next. Problem solved.
Average Savings: $15.00
2. Get a Free Bird
If you try hard enough, you might find that you can get a turkey for free. Yes, for free. Some stores offer promotions that will reward you with a free turkey if you spend a certain amount of money in their store in the months leading up to Thanksgiving. It's time to start checking out the circulars (you know, those things your mother used to thumb through that come in the local papers with what's on sale this week). Or look for events like a 5K race with a turkey giveaway at the finish line.
Average Savings: $20.00
3. Spend More Upfront To Save Later
OK, this one may seem a little counterintuitive, but hear me out. If you spend more money up front on a larger turkey, more than you'll ever eat on the actual day of Thanksgiving, it will pay you back in spades in the form of leftovers. You can turn your dinner into turkey sandwiches, turkey casseroles, turkey tacos. You can even use the turkey carcass to make turkey soup. Worried about turkey burnout? You can freeze your leftover-turkey meals like soup and you'll have approximately 365 days to recover.
Average Savings: $8.00
4. Go Frozen
The freezer aisle can be your best friend when it comes to saving money. I wouldn't advocate buying everything frozen for Thanksgiving, but frozen is a fine substitute for fresh (and more convenient!) when it comes to some vegetables. French-cut green beans for green bean casserole is one example. Frozen pearl onions to make creamed onions is another. Frozen squash is also a nice Thanksgiving ingredient for making soup or bread with, plus it cuts down on the hassle of having to peel and prep as you would if you bought fresh. Also, don't forget to check out the freezer for a frozen turkey—often they are cheaper than fresh. (If you get a frozen turkey, don't forget you need AT LEAST 48 hours for it to thaw in the refrigerator—even more if it's over 20 pounds.)
Potential Money Saved: $27.00
5. Make It a Potluck
Taking on the responsibility of cooking an entire Thanksgiving dinner is a big task with a big price tag. If you want to host, but don't think you can afford it, ask other people to pitch in. Have them bring an appetizer, a side dish or a dessert to help lighten the load.
Potential Money Saved: $15.00
6. Skip the Booze or Have Your Guests Bring a Bottle
Making Thanksgiving a nonalcoholic or bring-your-own-booze event may seem a little miserly, but in the end it may be worth the price tag and your friends and family may appreciate the simplicity of their contribution. Picking up a bottle of wine at the liquor store is easy. Whipping up a side dish or appetizer, packing it up and lugging it over to another location is not. Even though booze isn't cheap, they might thank you for keeping it simple.
Potential Money Saved: $50
7. Don't Go Overboard
For food lovers, it's easy to get carried away by Thanksgiving. There are so many delicious dishes to grace our tables with and it's hard to choose which ones to make. So we end up making them all—stuffing, green bean casserole, sweet potato casserole, mashed potatoes, two kinds of cranberry sauce, a salad, apple pie, pumpkin pie… you get the picture. But if you're on a budget, keeping it simple will keep money in your wallet. Pick two or three side dishes instead of four or five. (You can always make the ones you decide to ax another time.) And if you have eight guests or fewer, one dessert (apple or pumpkin pie, for example) is probably enough.
Potential Money Saved: $15