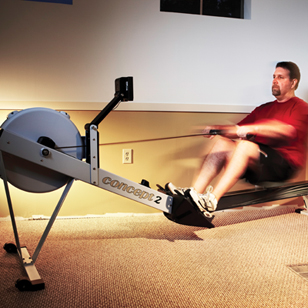 "I'm working so hard and I still can't lose weight." As a nutritionist who specializes in weight management, I've heard this
a lot
over the years. Yes, these people usually
are
working hard. Often too hard. One of the biggest mistakes people make when they're trying to shed pounds is to focus on the wrong things: false promises, unproven gimmicks, misguided perceptions about what it means to diet. (
Twelve things you should focus on if you really want to lose weight.
)
A smart, balanced approach to weight loss may not seem "sexy" or easy but getting caught up in weight-loss myths will only sabotage your success. Here are three top weight-loss myths, busted.
Myth:
You can lose 10 pounds in 2 weeks. (
What about other too-good-to-be-true-sounding claims? Our nutrition advisor Dr. Rachel Johnson weighs in.
)
Truth:
You probably can lose 10 pounds in two weeks if you crash diet, but you'll feel terrible—and most of the weight will return once you start eating normally. To truly lose 1 pound, you need to "eliminate" 3,500 calories—the amount stored in a pound of fat—by eating less and moving more. If you cut 500 calories (or cut 300 and burn 200 through exercise) every single day of the week, you'll lose about a pound a week. And that's real weight loss. (
Take our 500-Calorie Dinner Challenge
—and cut calories painlessly.)
Myth:
If you exercise, you can eat as much as you want.
Truth:
Unless you're working out like an Olympic athlete, to lose weight you'll still need to keep an eye on how many calories you're eating. "Calories in" add up much more quickly than "calories out." Consider this: two medium cookies cost you about 400 calories. To burn 400 calories, the average person needs to run or walk 4 miles. (
Find 6 easy ways to sneak in your exercise.
)
Myth:
You should expect to be hungry while dieting.
Truth:
If you cut calories randomly, you're probably going to feel hungry. On the other hand, if you plan out your day so that you're replenishing yourself with nutritious foods every three or four hours, you'll likely feel quite satisfied on significantly fewer calories. Aim to include a source of lean protein (e.g., skim milk, turkey) and fiber (e.g., hummus, carrots) in every meal and snack. (
Click here to find fresh ideas for diet-friendly breakfasts for 350 calories or less, 400-calorie lunches and low-cal snacks.
)