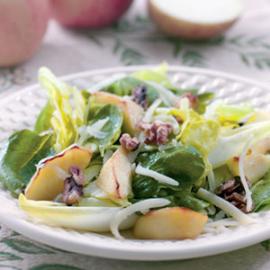 We went apple picking on Saturday and got a little carried away. It was a day that captured the essence of Autumn in New England: that "snap" in the air that puts color in your cheeks; the reds, oranges and yellows of fall foliage just like in a picture postcard; and apple trees weighed down with deep red, ready-to-pick fruit. We just meant to pick a few…and now we have so many apples we hardly know what to do with them all.
Somebody had the bright idea of making a whole dinner featuring our apple haul, to really celebrate fall. So when Sunday turned out to be cool and rainy and just right for cooking, we decided to prepare an apple-centric feast. Here's the menu.
Speaking of getting carried away… After that very special apple menu, if we want to have fresh apples to put in everyone's lunches this week—we'll have to go pick some more!