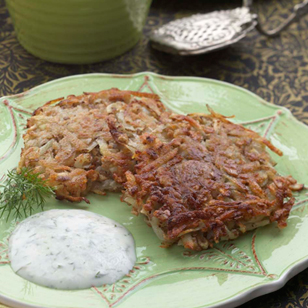 Even though I'm not Jewish, I have a soft spot for Jewish cuisine. I learned to love
matzo ball soup
and knish when I waited tables at a deli in college, but my real Jewish-food obsession is latkes.
I love fried foods and think it's pretty neat that they're served during Hanukkah to celebrate the miraculous way that one day's worth of consecrated olive oil kept the Jerusalem temple lamp burning for eight days. But all that frying doesn't exactly make latkes low-cal. Luckily for my waistline, the EatingWell Test Kitchen has come up with
ways to make our favorite fried foods taste delicious without a lot of extra fat
, including these 3 healthier latke recipes. Find more delicious recipes for the Festival of Lights in our
Hanukkah recipe collection
.
Crispy Potato Latkes—
It is a holiday tradition to fry latkes in hot oil, but here shredded potato-and-onion pancakes get a coating of matzo crumbs, are pan-fried in a small amount of oil and finished in a hot oven for a few minutes. The golden-crisp results have only 4 grams of fat and 100 calories per serving—truly a miracle.
Pesto Latkes
—This twist on a classic latke is flavored with pesto and baked in a muffin tin, avoiding lots of oil for frying.
Zucchini-Potato Latkes with Tzatziki
—Tzatziki, a flavorful Greek yogurt sauce laced with cucumber, is a tangy accompaniment for these high-fiber latkes.