Seafood is an important part of a healthy diet and should find its way to your dinner table on at least two nights of the week. A healthy source of lean protein, fish and shellfish also deliver nutrients like selenium, zinc, magnesium and omega-3 fats. Plus, seafood cooks quickly, making it great for fast dinners. Here we pulled together our best shellfish recipes and combined them with simple sides to create complete and healthy 500-calorie meals. (Looking for fish recipes? See our best recipes for fish here). Why 500 calories? This is a healthy amount to aim for at dinner in general and especially if you're trying to lose weight. When following a 1,500-calorie diet (a calorie level most people will lose weight following) 500 calories at dinner is the right amount to keep you feeling satisfied all evening long. Scan the recipes below to see why they're some of our favorites, and browse our other healthy fish and seafood recipes for cooking ideas and inspiration.
Read More: Clean-Eating Buyer's Guide to Seafood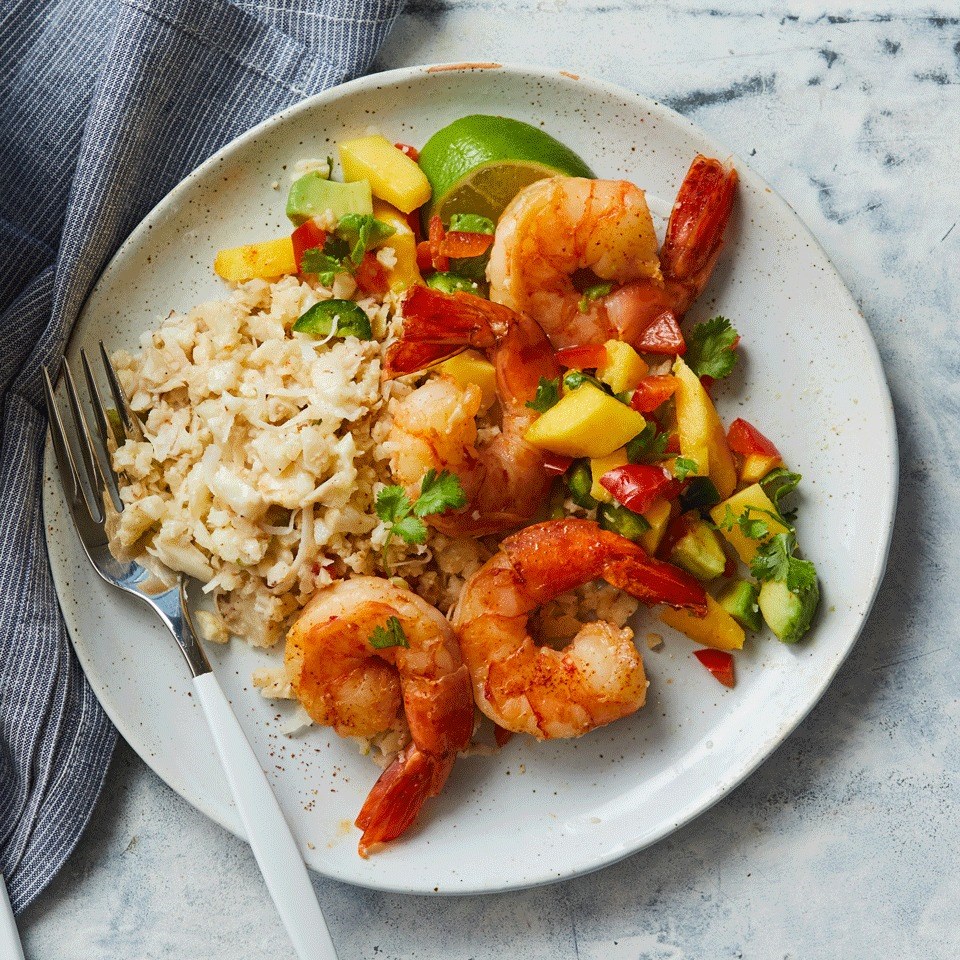 387 calories
Shrimp and rice get a tropical makeover in this healthy dinner recipe. Instead of rice, we've combined riced cauliflower and coconut milk for light coconut rice, then topped it with spicy shrimp and a juicy mango-avocado salsa to cool it all down. Squeeze on some fresh lime juice before digging in to take this easy meal to the next level. Pair it with a citrusy side salad to round out this 500-calorie meal.
Serve with:
• 2 cups mixed greens topped with 1 Tbsp. Citrus Vinaigrette (84 calories)
Total: 471 calories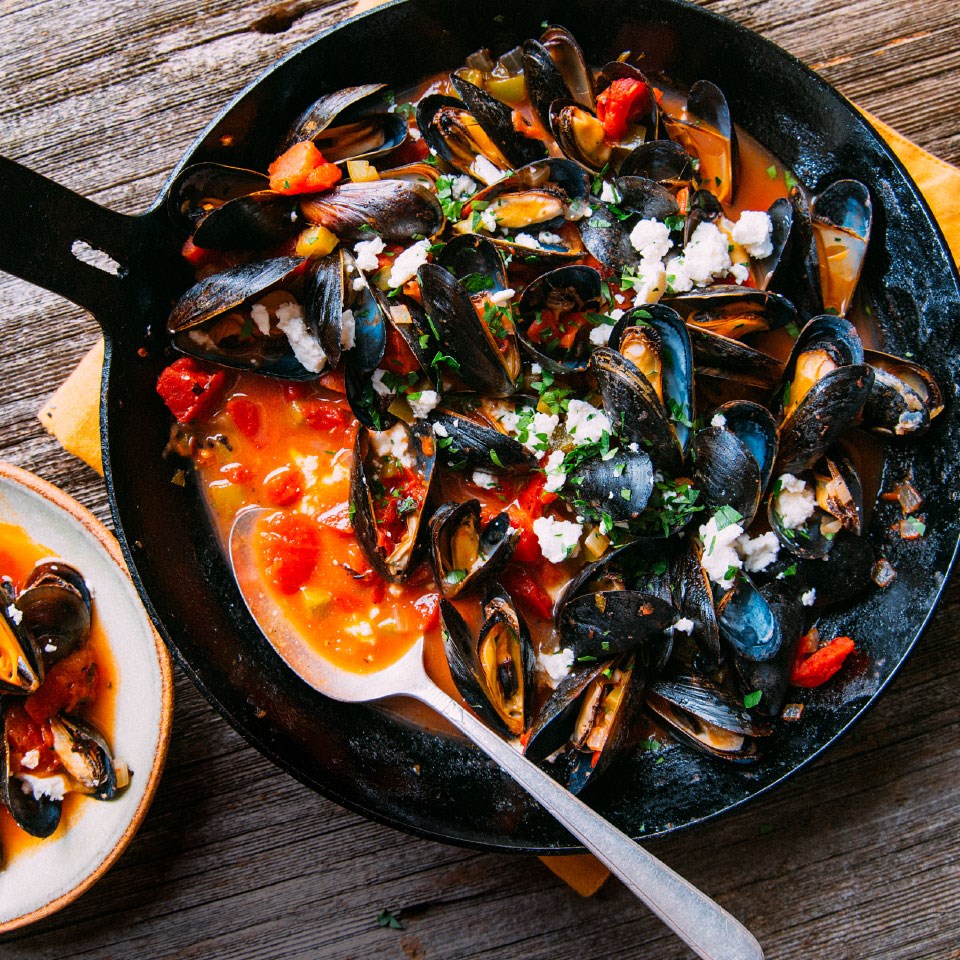 396 calories
This simple and delicious mussels recipe is restaurant-worthy but easy enough to make at home. The dish starts by making a quick homemade tomato sauce from garlic, onions, bell pepper and canned fire-roasted tomatoes, which then serves as the cooking liquid for the mussels. Infused with tons of delicious flavor, you'll definitely need some crusty bread to sop up any remaining sauce.
Serve with:
• 1 2-inch chunk whole-wheat baguette (120 calories)
Total: 516 calories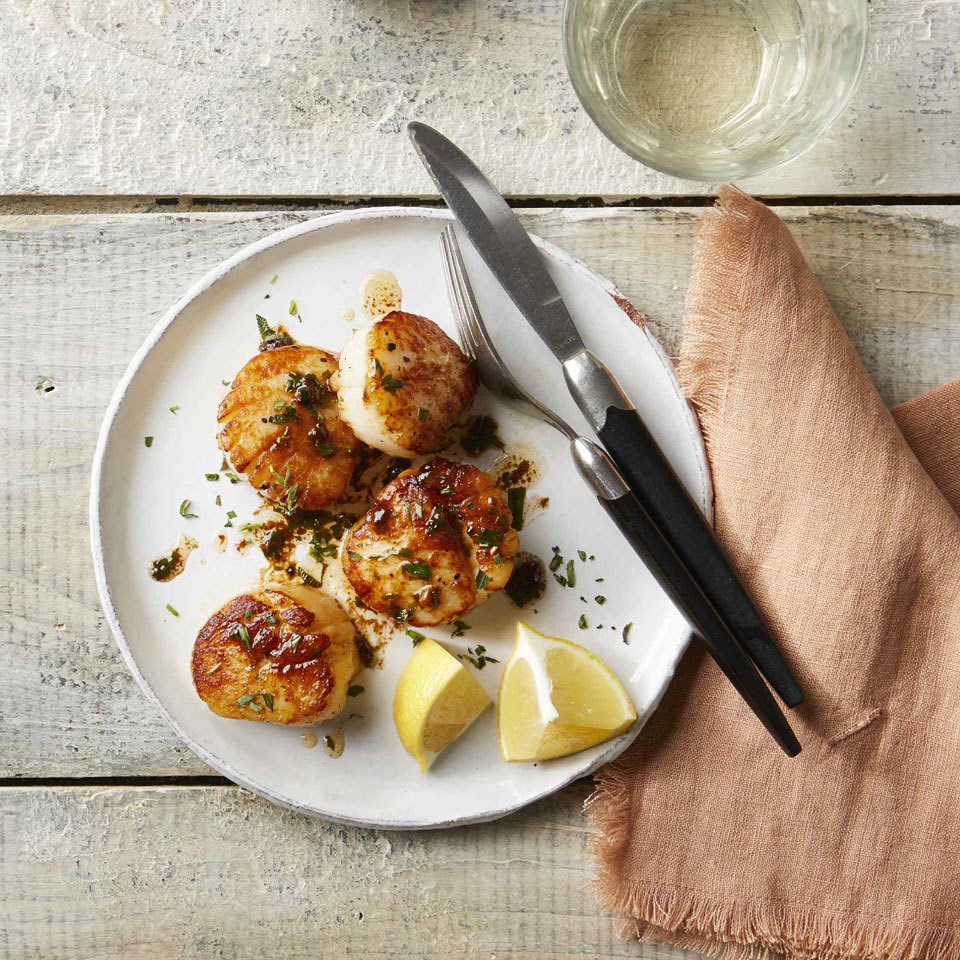 157 calories
Get perfectly cooked scallops every time with this easy method. Sea scallops (the large ones) are sautéed in butter that turns deliciously nutty as it cooks, to make a super-fast, special dinner. A splash of lemon juice and a sprinkle of fresh herbs finish the dish, and a side of brown rice and easy sautéed spinach bring together this 500-calorie meal.
Serve with:
• 1 cup Easy Brown Rice and 1 cup Simple Sautéed Spinach (361 calories)
Total: 518 calories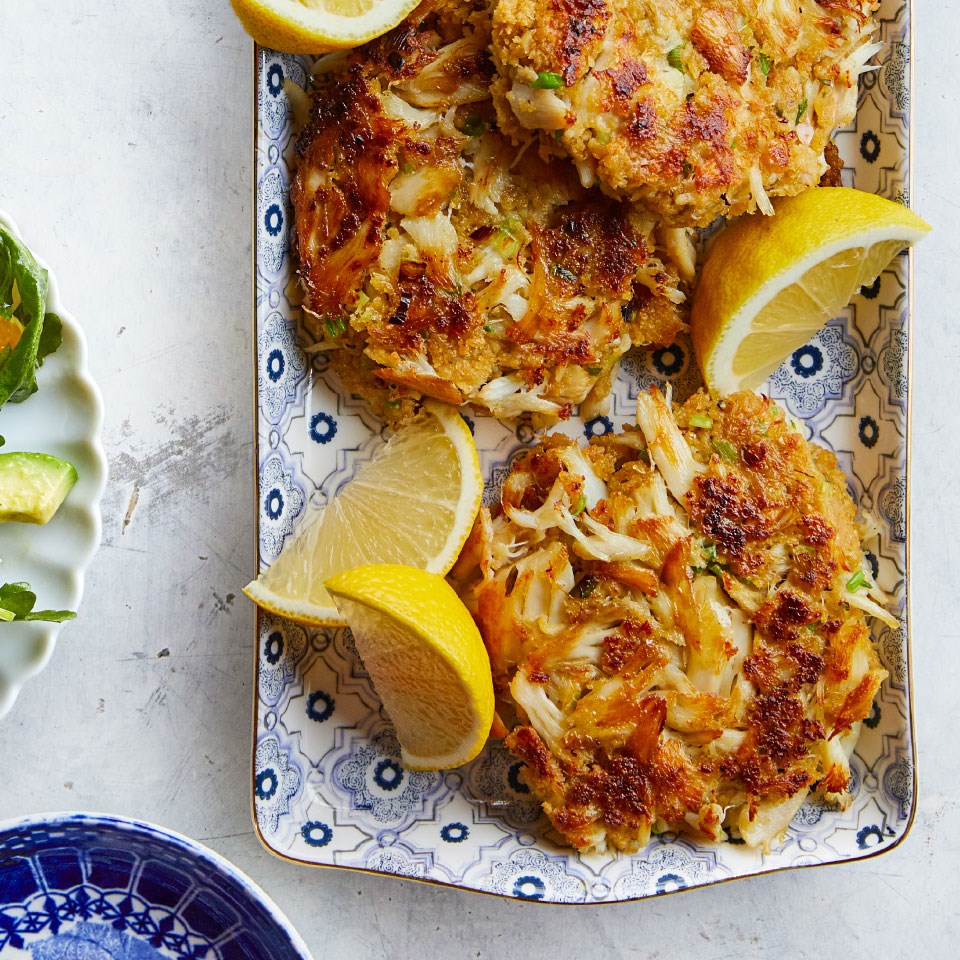 265 calories
Shallow-fry these easy crab cakes on the stovetop to get the perfect crisp crust without the greasy mess of deep-frying. The simple ingredients let the flavor of the crab shine through.
Serve with:
• 1 Tbsp. Creamy Dill Sauce and 1 serving Citrus Arugula Salad (209 calories)
Total: 474 calories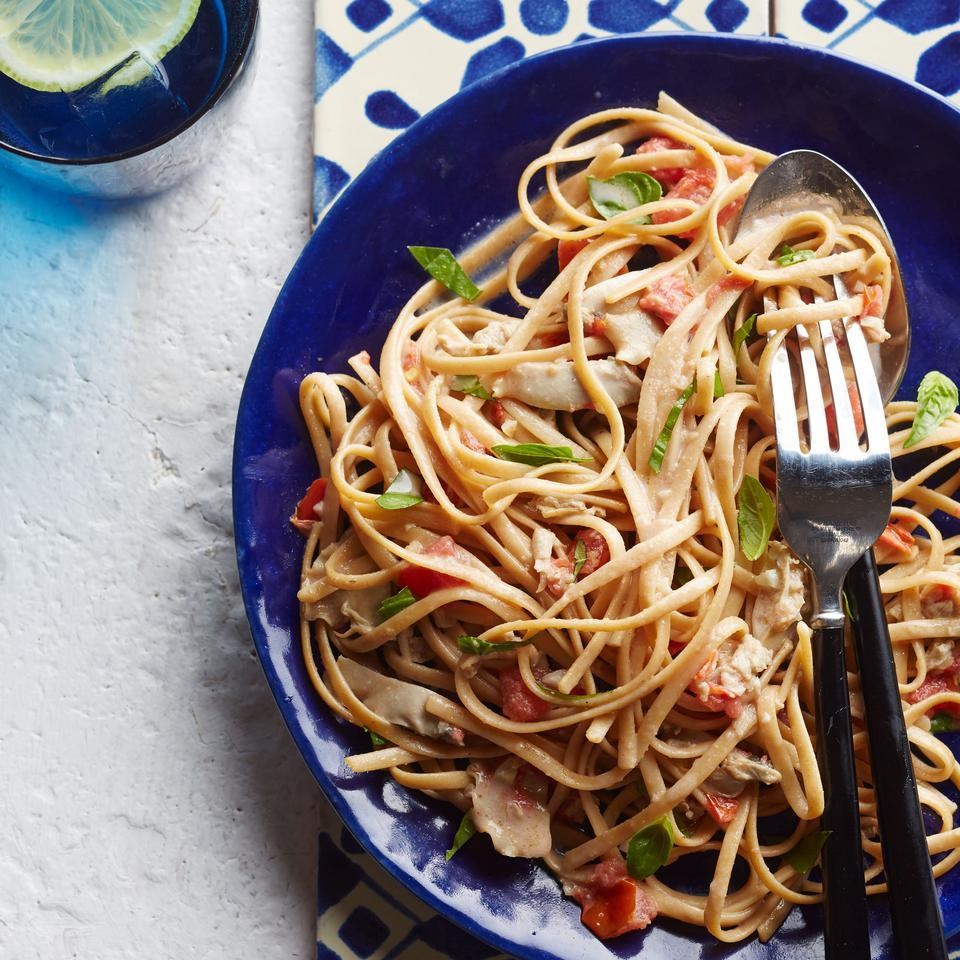 421 calories
Ripe tomato and fragrant basil add fresh flavor to the creamy clam sauce in this quick pasta recipe. And we really mean it when we say quick—15 minutes is all you need to get this tasty 500-calorie meal on the table. Fresh or frozen chopped clams from the seafood department are an underappreciated convenience. Compared to canned, they have a larger clam-to-liquid ratio and are lower in sodium. If the seafood department at your local grocery store doesn't carry them, go with canned whole baby clams (they're similar in size to the ones found in the seafood department).
Serve with:
• 2 cups chopped romaine lettuce topped with 1 Tbsp. Caesar Salad Dressing and 1 Tbsp. grated Parmesan cheese (71 calories)
Total: 491 calories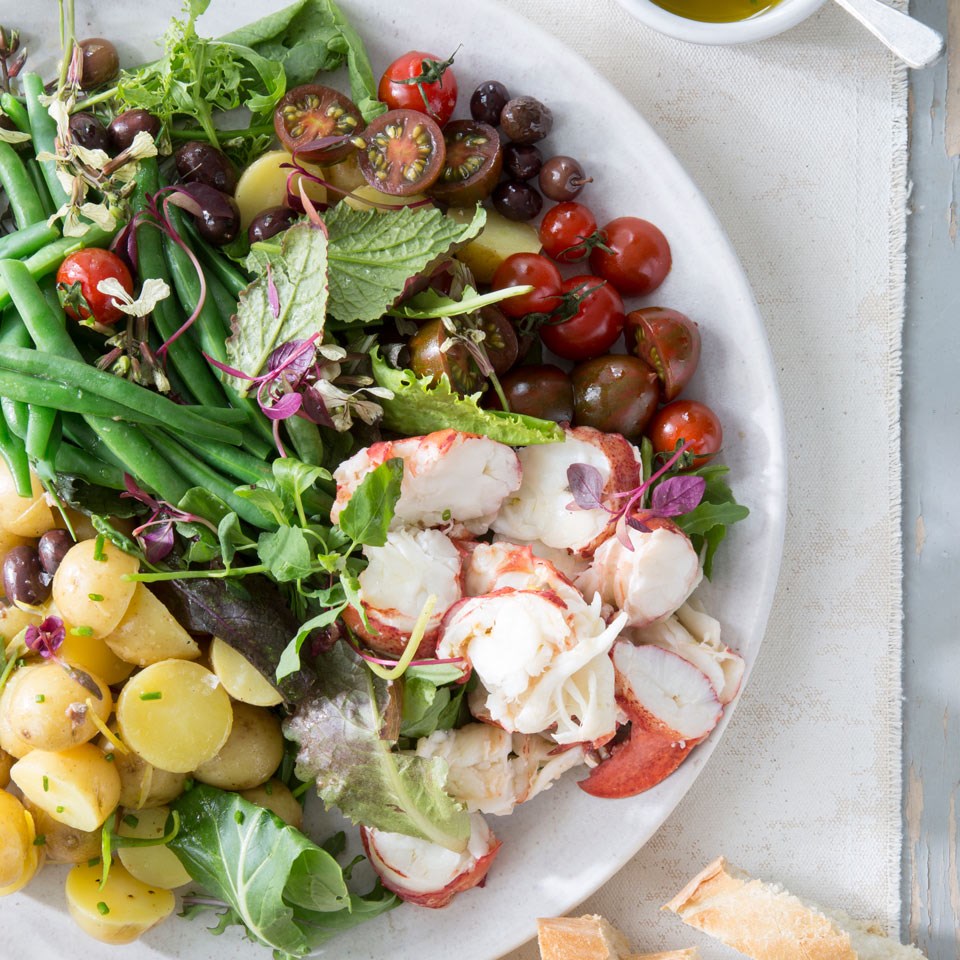 359 calories
Steamed lobster is a luxurious swap for tuna in this otherwise-classic, veggie-loaded Niçoise salad. In a pinch—or if you don't want to deal with a giant pot of boiling water—many supermarkets have freshly picked lobster meat at their seafood counter or in the freezer case. Serve with a warm baguette to round out this meal.
Serve with:
• 1 2-inch chunk whole-wheat baguette (120 calories)
Total: 479 calories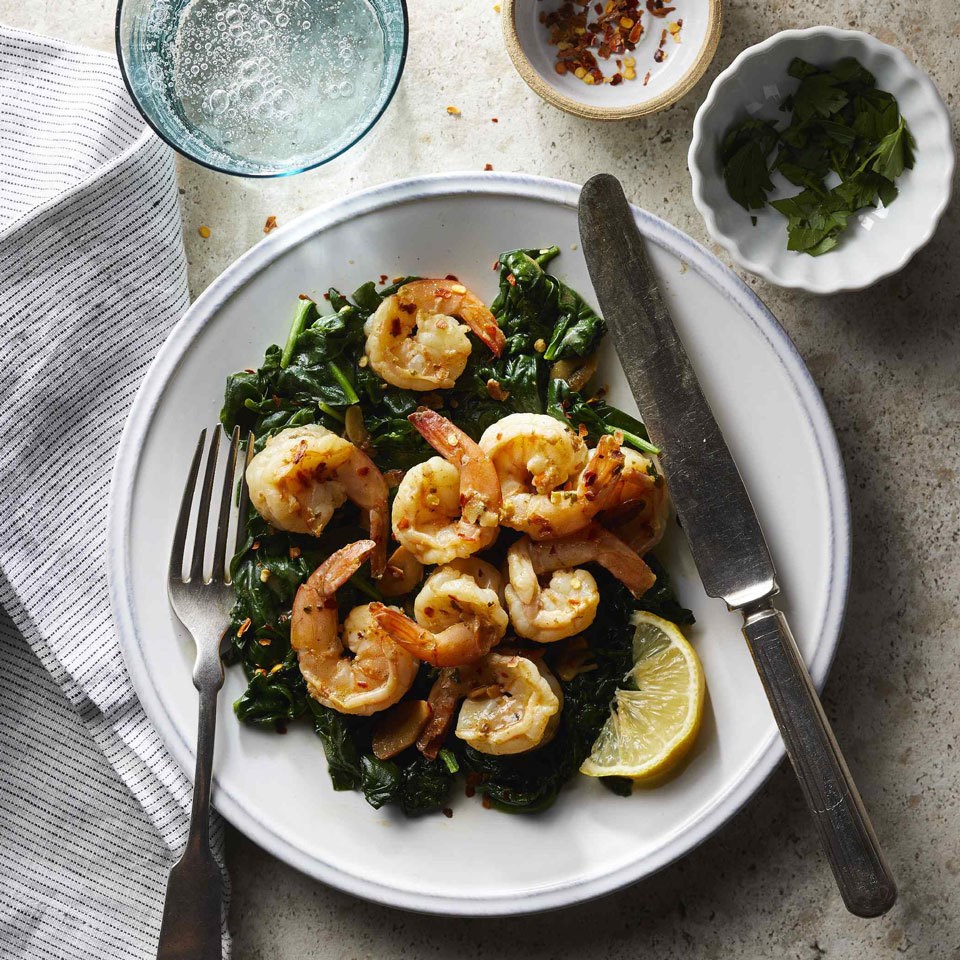 226 calories
Shrimp, spinach and garlic brown and cook quickly for a simple one-pot weeknight dinner. A fast pan sauce gets life from zesty lemon juice, crushed red pepper and fresh parsley. Serve with whole-wheat couscous to make this a complete 500-calorie meal.
Serve with:
• 1 cup Easy Whole-Wheat Couscous and 1 Tbsp. grated Parmesan cheese (247 calories)
Total: 473 calories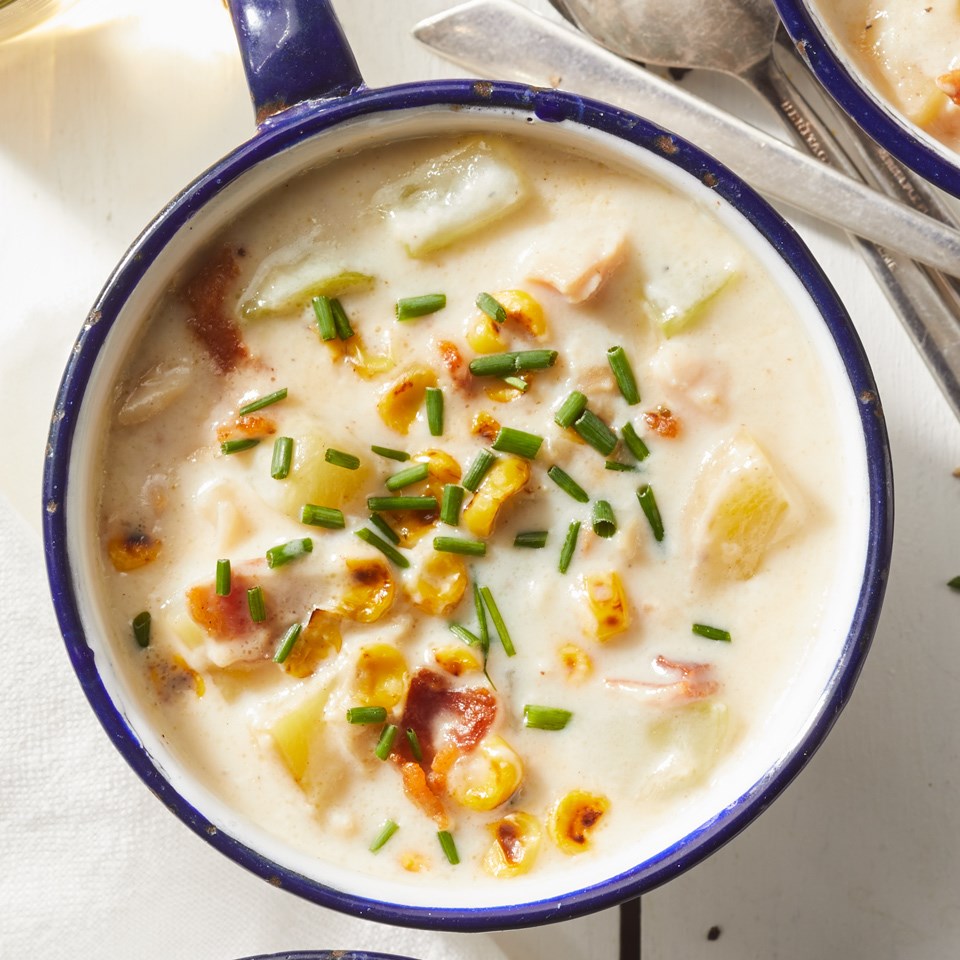 256 calories
This delicious recipe for clam chowder is super simple to make and is ready in a quick 30 minutes, making it great for busy weeknights. We added in corn and broccoli stems (you know, the part you typically compost or throw away) to up the veggie count.
Serve with:
• 5 saltine crackers and 1 cup Broccoli Salad with Sherry Vinaigrette (262 calories)
Total: 518 calories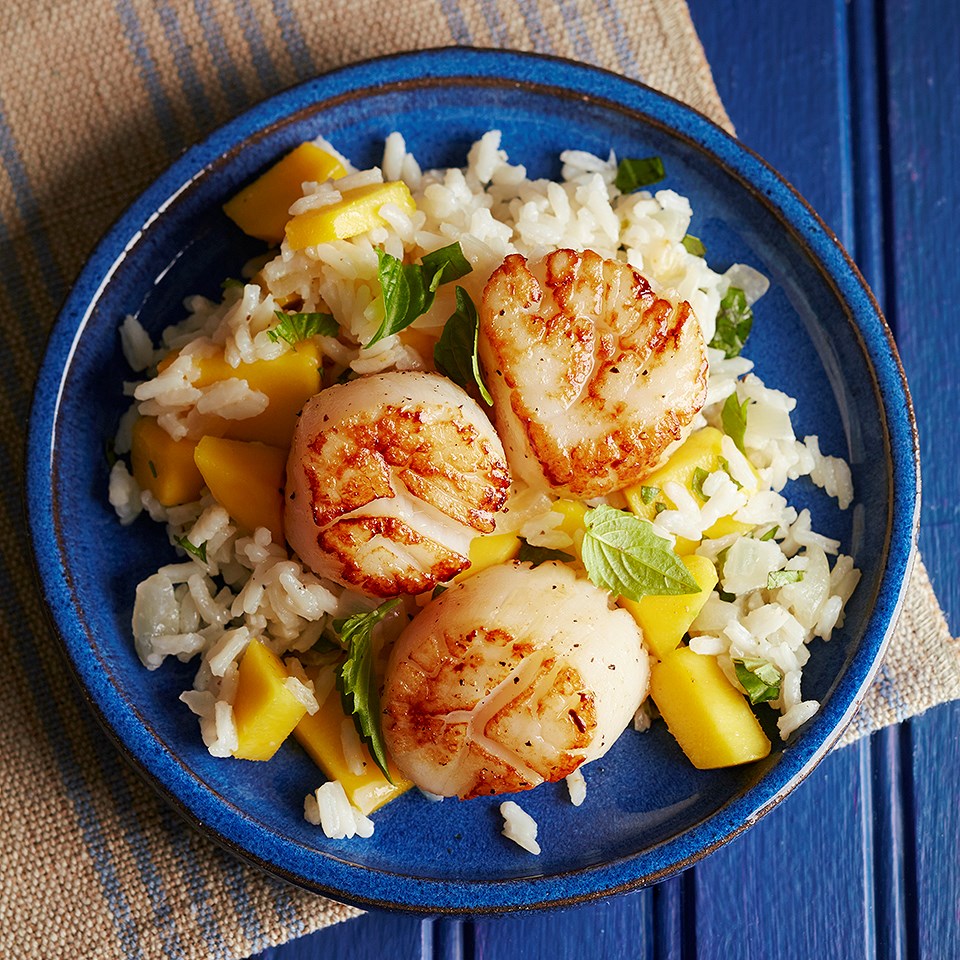 299 calories
No need for Thai takeout with this tasty dinner idea! Here we sear sea scallops until just slightly browned and serve them on a bed of coconut rice with pieces of juicy mango and chopped basil. A treat for your taste buds, this delicious dinner is bursting with tons of fresh flavor.
Serve with:
•1 cup Snap Pea & Cherry Tomato Stir Fry and, for dessert, 1/2 cup Pineapple Nice Cream (182 calories)
Total: 481 calories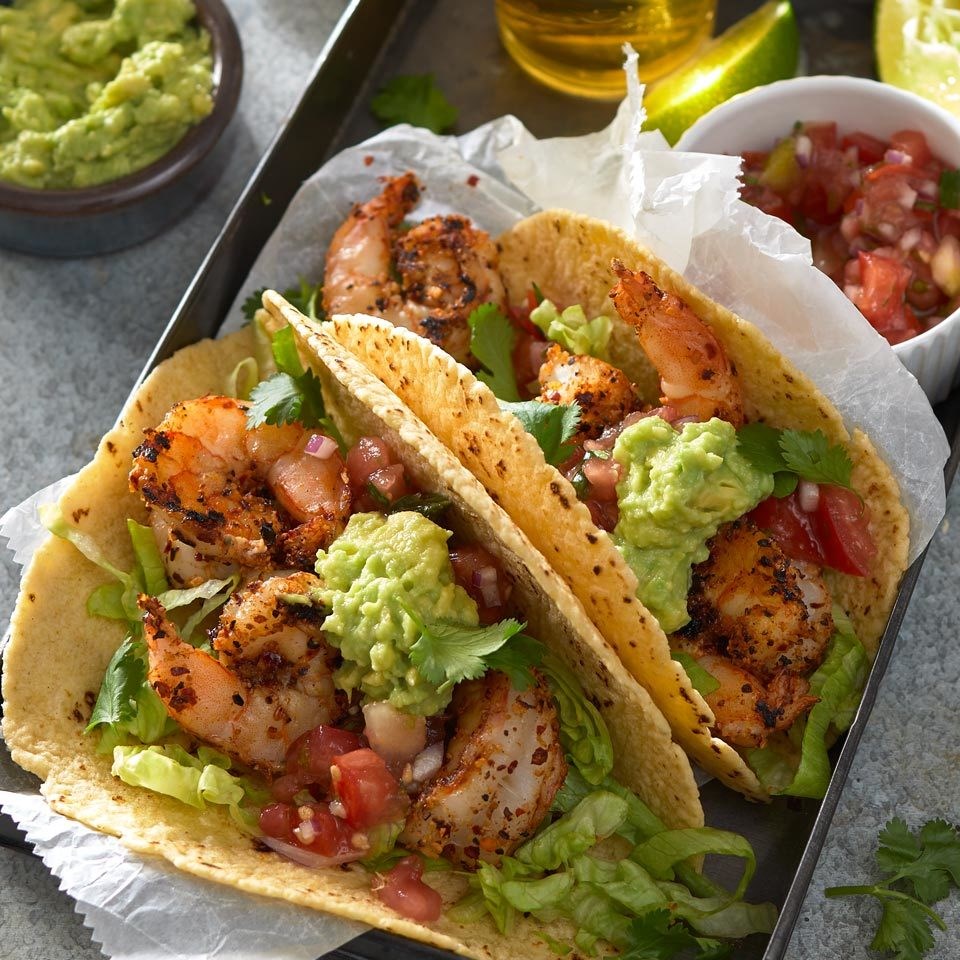 286 calories
Give juicy shrimp tacos a Cajun flavor spin with spices and a quick sear on a hot grill. An easy avocado mash adds creaminess to cool off the spicy kick. Pair with chips and salsa on the side to make this a 500-calorie meal.
Serve with:
• 2 Tbsp. shredded Monterey Jack on top of the tacos + 1 serving tortilla chips (about 7 chips) with 1/4 cup pico de gallo (214 calories)
Total: 500 calories
Don't Miss!
How These 500-Calorie Meals Can Help You Lose Weight
500-Calorie Dinners: Fish
500-Calorie Dinners: Chicken
500-Calorie Dinners: Vegetarian
What Does a 1,500-Calorie Day Look Like?
7-Day Dinner Plan: 30-Minute 500-Calorie Dinners
Clean-Eating Buyers Guide to Seafood