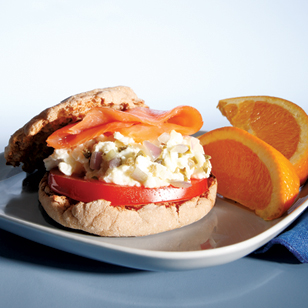 Let's face it, during the holidays most of our eating rules—mine included—fall by the wayside as we're enticed by delicious holiday drinks and beautiful food spreads at parties. (
Find healthy, holiday cocktail and appetizer recipes here.
)
But there's one that I absolutely don't give up:
eating breakfast
. Why? Well, most importantly, it gives me a much-needed energy boost for the rest of the day. (Holiday shopping takes a lot out of me!)
Plus research shows that people who are most successful at losing weight eat breakfast every day.
So to make sure that I don't gain weight over the holidays (I want to fit into my holiday party dress!) there are 3 things I'll include to make my breakfasts healthy: whole grains and lean protein to help me stay full right through until lunch, and some fruit for added fiber.
Here are three
delicious breakfast recipes
to help you head off winter weight gain:
Creamy Wheat Berry Porridge:
This warming whole-grain porridge pairs fruit, nuts and rolled oats, with cooked wheat berries for a filling, fiber-rich breakfast. What's more, the wheat berries and oats are "slow-release" carbohydrates and, according to a recent study,
eating a breakfast that contains "slow-release" carbohydrates 3 hours before you exercise may help you burn more fat.
(
Find 10 breakfast recipes to fight fat here
.
)
Egg & Salmon Sandwich:
Smoked salmon and egg whites on a toasted whole-wheat English muffin is the perfect protein-rich power breakfast that will help you feel full all morning.