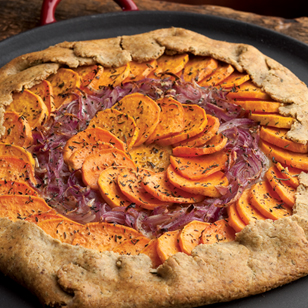 I've been an on-and-off vegetarian since I was a teenager and the one holiday I've always dreaded most is Thanksgiving. I mean,
isn't it all about the turkey
? While I get stuck eating starchy sides and dry stuffing, everyone else gets the main attraction, plus gravy. There's nothing like Thanksgiving to make a vegetarian feel like an outcast.
So one year, I convinced my (very supportive) family to
forgo the traditional roast bird
and indulge in my strange vegetarian concoction: tofu, seasonings and sesame oil, all mashed together, molded into a bowl and then baked.
It tasted, well, like greasy seasoned tofu. Everyone smiled and lied through their teeth saying that it was delicious. (Yes, I told you they're a very supportive family!) But I thought to myself: definitely won't make that mistake again.
So I smartened up and started bringing a really fantastic meatless entrée to share. Here are my 5
favorite vegetarian alternatives to Thanksgiving turkey
. They're so rich and satisfying—even the meat eaters will want some on their plate.
Sweet Potato, Red Onion, & Fontina Tart
The pastry dough for this roasted-vegetable free-form tart is very forgiving and quite easy to roll out on parchment paper or a nonstick baking mat. The walnut-studded crust is crisper served warm, but you can enjoy the tart at room temperature or cold too.
Crispy Phyllo Spinach Tartlets
Frilly layers of phyllo dough surround the festive spinach and sun-dried tomato filling in a dressed-up version of Greek spanakopita.
Acorn Squash Stuffed with Chard & White Beans
Acorn squash's natural shape makes it just right for stuffing. This filling has Mediterranean flair: olives, tomato paste, white beans and Parmesan cheese.
Broccoli & Goat Cheese Soufflé
This elegant broccoli and goat cheese soufflé will wow your family and friends. Soufflés are surprisingly easy to make—the only trick is getting them onto the table before they deflate.
Squash & Leek Lasagna
Grated butternut squash, pine nuts and sautéed leeks in a creamy white sauce are layered with sheets of whole-wheat pasta for this wintery variation on vegetable lasagna.