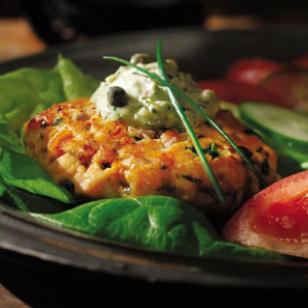 I'm a big fan of fatty fish—salmon, tuna and, for the first time this past weekend, grilled sardines! Of course these fish taste delicious, but they also deliver a healthy dose of omega-3 fatty acids. (
Get some of my favorite salmon recipes here: Salmon Burgers with Green Goddess Sauce, below, and Cashew Salmon with Apricot Couscous
)
Why do I care about eating omega-3s? You've likely heard that they help keep arteries clear and hearts strong, and they've been linked with quite a few other health benefits: they strengthen the immune system and eyesight, improve mental health and boost brain power and even protect skin from UV damage. But perhaps the most intriguing to me these days is that
omega-3s may help to relieve hot flashes.
(Just ask my friends mid-menopause—I'm dying for them to try this out and report back to me!)
Here's the scoop: A new study showed that menopausal women who took capsules containing EPA and DHA—the omega-3 fats found in fish—reported fewer hot flashes than women who didn't take supplements. Scientists aren't sure how the omega-3s might reduce hot flashes (or even what causes hot flashes in the first place). They think that omega-3s may assist in the production of neurotransmitters that help the body to maintain an even temperature.
The findings, reported in the journal Menopause, are preliminary. You'd need to eat five servings of fatty fish a week to match the dose in the study (
find more omega-3-rich fish here
), so if you'd like to pursue omega-3 supplements as a natural solution for soothing hot flashes, talk with your doctor.
If fatty fish and omega-3s aren't for you, here's another natural remedy for hot flashes—lignans, or estrogen-like compounds.
Find out how lignans help hot flashes, what foods they're in, and get 7 yummy recipes to eat more.