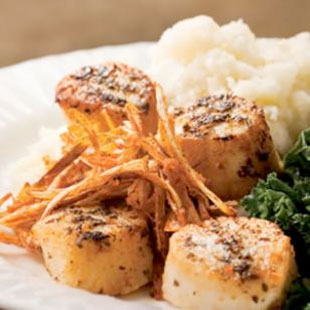 Simple enough for "just us," good enough for company.
Other than the cat's birthday, I don't throw many parties. Most nights we're content with our quiet unsocial life and casual approach to dinner—it only has to please us. But as the holidays near, I begin to feel more inclusive. The urge comes upon me to throw another leaf in the dining room table, get out the matching plates and invite people over for dinner. (It's the least we can do for friends who've been hosting us the rest of the year.) I know I'll need new candles to replace the stubby ends that went into the Halloween pumpkins, but beyond that the whole entertaining thing doesn't come naturally to me.
Luckily, the Test Kitchen has put together a fabulous set of easy dishes that also happen to be festive enough for a holiday dinner party. With speedy recipes like Seared Scallops with Crispy Leeks, all I have to do is mash some potatoes and steam some vegetables and I've made the transition to competent hostessing. Because I can never resist buying cranberries at this time of year, I'll make Turkey Tenderloin with Cranberry-Shallot Sauce and bring it out with a flourish. Meat-loving friends will enjoy Moroccan Skirt Steak with Roasted Pepper Couscous or Quick Chicken Cordon Bleu. Thanks to the Test Kitchen, I'll also be able to entertain vegetarians unapologetically, with savory stuffed acorn squash. (Look at me go!)
Easy, fast and delicious: that's my kind of entertainment.