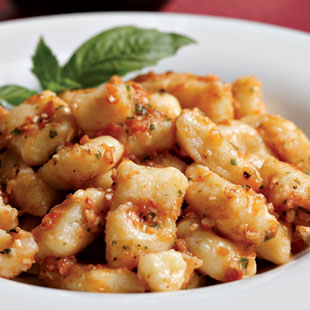 Sharing the delicious gift of homemade gnocchi with family and friends.
I'm not Italian, but I grew up making gnocchi. My Aunt Kay married an Italian, James Kiomento, "Uncle Jimmy K," who learned how to make gnocchi from his mother, who learned how to make it from her mother.
During family visits, Uncle Jimmy K normally didn't have much to say to the kids. But at the holidays, he invited us into the kitchen for gnocchi-making lessons. He explained that gnocchi was made from just four ingredients—potatoes, flour, egg yolk and salt. He'd warn us, "You need to press the potatoes through the ricer while they're still hot." "Don't add too much flour or the gnocchi will be tough!" "Use a gentle touch when rolling the dough, you want tender gnocchi, don't you?" Not only was the kitchen counter covered in flour, so were we. After we each gently rolled a portion of dough into a long snake and cut it into tiny little "pillows," Uncle Jimmy K gingerly dropped them into the boiling water. As soon as they floated to the surface, he scooped them out of the water, gently tossed them with a simple tomato sauce and dinner was ready.
I still love to make gnocchi.
With these step-by-step instructions
, I'll teach you too how to share the delicious gift of homemade gnocchi with your family and friends. Buon appetito!