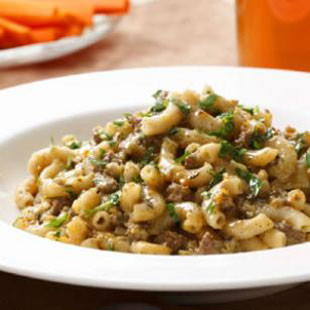 Whenever I see ground beef on sale, I stock up. Knowing I have a few packages stashed away in my freezer helps solve the nightly question of "What's for dinner?" I just pull out some ground beef the night before I plan to use it and let it defrost in my refrigerator. When I get home from work the next day I can cook up any of these
delicious recipes using ground beef
in 45 minutes or less. Bonus: they're all $3 or less per serving.
Hamburger Buddy:
The simple one-skillet spin on boxed burger "helper" was developed with picky eaters in mind. To make this healthier version, we use 90%-lean ground beef and replace regular noodles with whole-wheat noodles to increase the fiber. The secret to boosting the nutrients in this dish is adding finely chopped carrots, plenty of onion and mushroom.
Beef & Bean Chile Verde:
Chili in 30 minutes? Yes you can! A jar of salsa and choice seasonings give it oodles of slow-cooked flavor in very little time. Serve with fresh cilantro, red onion and Monterey Jack. Add cornbread on the side and your favorite hot sauce.
Portobello & Beef Patty Melt:
This diner classic gets a makeover by replacing some of the ground beef with finely chopped portobello mushrooms, which add moisture and flavor. We like a smear of pickle relish on top, but you could try chutney, mustard or hot pepper relish in its place.
Loaded Twice-Baked Potatoes:
Potatoes are one of the great comfort foods, especially when stuffed with a satisfying mixture of lean ground beef and broccoli florets plus reduced-fat sour cream and Cheddar cheese. Serve with a tossed salad.
EatingWell Sloppy Joes:
Our updated Sloppy Joe takes lean ground beef and adds chopped cremini mushrooms and diced fresh plum tomatoes, all in a zesty sauce. Served on a whole-wheat bun, it's a hearty dinner sandwich that will please adults and kids alike.