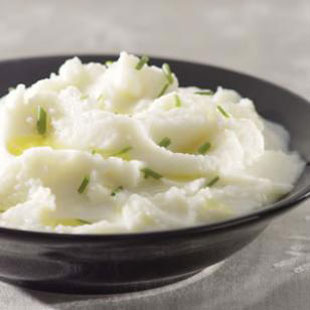 I think it's fair to say that cauliflower was nearly forgotten—the lone vegetable left on the veggie platter after all others have been eaten or hidden under a blanket of cheese sauce. But cauliflower has recently been rediscovered as a skinny "starch" and is making a comeback on the menus of family-style restaurants and high-brow eateries alike as an alternative to the higher-carb potato.
Boasting a mere 29 calories per cup, and a rich source of vitamin C, vitamin K, folate and fiber, cauliflower deserves its newfound "hot veggie" status as a go-to for side dishes, salads and as part of flavorful stews and main dishes.
In
Creamy Mashed Cauliflower
, it produces the creamy texture of mashed potatoes.