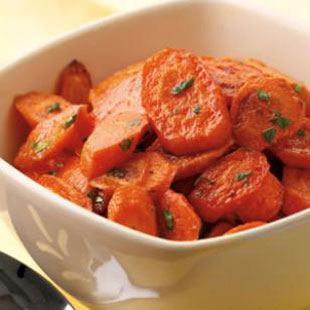 To me, carrots are a humble vegetable. However, the Greeks once thought carrots were the secret to great sex. And the vegetable's amorous reputation followed it to Rome, where the emperor Caligula fed nothing but carrot dishes to the Roman Senate so he could watch them "rut like wild beasts."
Unfortunately for the Roman Senate, and any of us who want to find
foods to boost our libido
, carrots' powers in the bedroom have yet to be proven. On the other hand, the pigment that makes carrots orange—beta carotene—is the same compound the body converts to vitamin A, a vitamin essential for vision, healthy skin and the immune system. Get your fill of vitamin A and give your plate a splash of color with these
delicious carrot recipes
.
Chili-Roasted Carrots
– Roasted with chili powder and cumin then tossed with cilantro and lime juice, these carrots are bursting with zesty flavor. Serve them with simple roast chicken or pork.
Carrot Salad with Honey-Lemon Dressing
– Here we combine carrots and celery root (also known as celeriac) in a quick shredded slaw. Try it as a change from an ordinary mixed green salad.
Carrot Puree with Hazelnut Tapenade
– This carrot-potato puree has an amazing silky-smooth texture. We give it a sophisticated touch with a quick tapenade made with green olives, orange zest, hazelnuts and garlic. For a simpler dish, just make the puree and skip the topping.
Hot & Sour Carrots
– The hot-and-sour sauce on these quick sautéed carrots is not for the timid palate. They have an abundance of bold, spicy flavor. Try them with steamed white fish and brown rice.