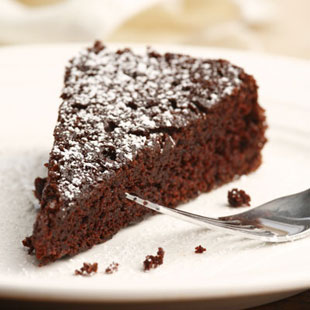 5 quick tips for having fun without wrecking your resolve.
Many parties and holiday celebrations center on tempting foods and drinks—but with a game plan, you'll be able to relax and enjoy them.
1. BYO - Offer to bring a dish to share
—something that works with your eating plans, but that others will enjoy too.
Get some recipe ideas from our Healthy Recipe Collections.
2. Survey the offerings and decide on one or two "must-haves."
Take a modest portion of each and fill the rest of your plate with veggies.
3. Go easy on alcoholic drinks
, which can chip away at your resolve to eat mindfully.
4. Focus on the fun and conversation, not the food
—and if there's a dance floor, kick up your heels!
5. When you're entertaining, serve up lower-calorie dishes you love.
No need to announce that it's "lighter" fare, unless someone asks.
Pictured:
Bring a healthy dish to share. Try this yummy
One-Bowl Chocolate Cake
, just 139 calories a slice!