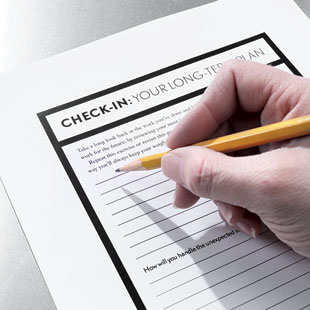 As you reach your weight-loss goals, you're ready for the final step: creating a long-term strategy that will help your successes stick. You've come a long way—but know that you will have lapses. Everyone does! The key is to get back on track quickly, and move on. Use our
Long-Term Success Plan Worksheet
(click to download pdf) to help you anticipate and plan for setbacks. Revise it regularly.
Learn to recognize the lapse-relapse-collapse cycle—and nip a lapse in the bud before it derails your weight-loss plans.Try designating a "red-flag" weight – say, 3 to 5 pounds above your idea weight goal. If you see that weight on the scale, consider it a signal that you need to act immediately. See our
Back on Track Worksheet
(click to download pdf) for ideas.
How To Stop A Binge:
3 Questions to Ask Yourself
1) Am I truly hungry? If you're not, wait 20 minutes and ask yourself again.
2) Has it been more than 3 hours since I last ate? (If not, it's probably emotional, not physical hunger)
3) Can a small snack, like a handful of grapes and a few peanuts, tide me over until the next meal?