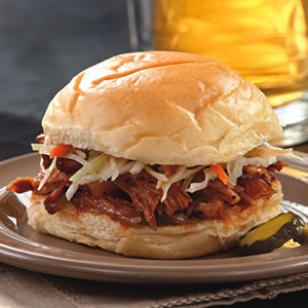 In the height of summer, most people have forgotten about their slow cookers. But my slow cooker never gets put into storage; I think of it as a year-round tool. (Don't miss these
7 tricks for better slow-cooking in your crock pot
.)
For starters, it never stops being convenient. Just the way it warms you up after a day skiing, your slow cooker can deliver an easy, nourishing meal after a soccer game or a day at the beach. And no, you don't have to be eating beef stew in August. Recipes like
Pulled Pork with Caramelized Onions
(
pictured
) are great for summer. Just top it with some cool and crunchy slaw and a tart pickle and you've got yourself the perfect summer meal. Or make meatballs in your slow cooker for a crowd-pleasing meal. (Try this recipe:
Nonna's Spaghetti & Meatballs
). Pair that with a salad and you can't possibly go wrong.
And who would argue that lasagna is a dinner only to be enjoyed in the winter or fall? What probably keeps most people from making lasagna in the summer is not wanting to turn their ovens on for a long period of time. Well, you don't have to. Because you can make lasagna in, you guessed it, your slow cooker! (Get the recipe:
Slow-Cooker Vegetarian Lasagna
.)
So think outside the box and get your slow cooker back in the kitchen this summer.
Get the Recipe: Pulled Pork with Caramelized Onions
—Traditional pulled pork is barbecued, which gives it a smoky flavor. But the slow cooker happens to be the absolute easiest way to cook pulled pork—and you can get a hint of smoke by adding chipotle chile.