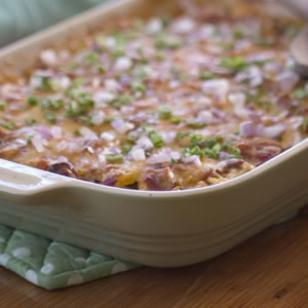 Summer is great for getting outside and enjoying the warm weather and seemingly endless evenings with friends. It's the perfect time of year for a backyard potluck. But things can get tricky when it comes to figuring out what food to bring to a get-together. If everyone followed their first instinct—or at least my first instinct—you'd end up with a party full of salads and nothing else. Party foul.
Consider whipping up one of these delicious summer casseroles instead. They're quick to put together, packed with fresh seasonal veggies, great to make ahead (some are even freezable if you want to keep them on hand for future soirees) and sure-fire crowd-pleasers. Party on!
Zucchini Rice Casserole
We pack extra vegetables into this cheesy baked rice casserole. Plus we substitute brown rice for white, reduce the cheese by half and swap turkey sausage for pork sausage. If you're bringing it to a potluck, plan to reheat it before serving.
Quick Shrimp Enchilada Bake
Shrimp enchiladas offer a taste of coastal Mexican cuisine but some versions contain so much cheese, butter and sour cream that they can pack a whopping 50 grams of fat per serving. Our version has vibrant flavor and only half the calories and 6 grams of fat per serving, plus we use precooked peeled shrimp so you can get the dish on your table fast enough for a weeknight supper. The addition of refried beans helps makes these enchiladas an excellent source of fiber as well.
Chilaquiles Casserole
Our version of this enchilada-style chilaquiles casserole is packed with nutritious beans and vegetables. Canned prepared enchilada sauce has great flavor and keeps the prep time quick. It can vary in heat level, so find one that suits your taste. If you want to eliminate the heat altogether, try a green enchilada sauce (which is often milder than red) or substitute two 8-ounce cans of plain tomato sauce.
Tomato Gratin
A gratin is any dish topped with cheese or breadcrumbs mixed with butter, then heated until browned—but it needn't be heavy. This one has plenty of garden-fresh tomatoes and herbs, a touch of full-flavored cheese and a crispy crumb topping
Provençal Summer Vegetables
This stunning side dish of layered tomatoes, eggplant, summer squash and leeks bursts with fresh flavor. To make it even more colorful, use half a summer squash and half a zucchini. Try it alongside any grilled meat. Leftovers are delicious sandwiched between slices of crusty whole-grain bread.
Tex-Mex Summer Squash Casserole
(pictured above)
Chiles and cheese turn mild summer squash into a zesty, satisfying casserole. The jalapenos make this dish quite hot; if you prefer a milder version, use a second can of diced green chiles instead.